Today is December 8th, 2008. That means it's been a whole year since the shivering, filthy white horse came into my life. What an amazing year it has been. I thought about how far we've come the other night, when I stood in the barn aisleway, tending to Argus pigeon fever-ravaged chest. A thermometer stuck in one end, and a giant syringe stuck in the other, Argus stood, TIED, dozing while I plunged syringe after syringe into his chest, cleaning the big abscess with dilute betadine. Most horses won't stand for this, but Argus simply fell asleep, happy for the attention.
A year ago, Argus was wild, and terrified, and barely halter broke. He could not trot four steps without falling down. He shook violently, breaking out into a chilling sweat, whenever I walked him outside his paddock. His muscles were like soft bread dough. His knees shook all the time. He could not straighten his right leg. He was such a terrible mess.
One year ago, Argus stands in the corner of his paddock, a mere 24 hours after being removed from Hell. The woman in red is an animal communicator. "He misses his old home and his person," the communicator said ruefully, "and he's terrified of your neighbor's flag." Argus reported his mane to be intolerably itchy. We carefully cut it off minutes after this photo was taken. Despite is fear of us, he stood quietly while we hacked it off with scissors and brushed it out.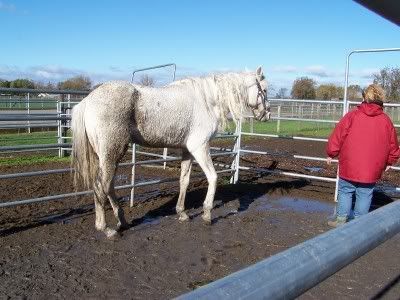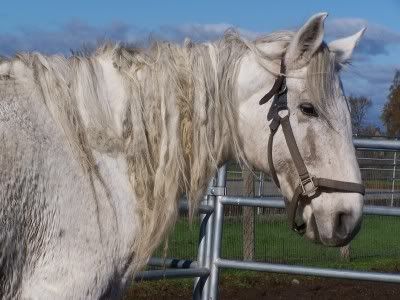 Today, Argus is a happy, well adjusted horse who enjoys time out in pasture, a bucket of grain in his stall, and can be led all over our property. He's a saint on the ground, safe and kind. We are lucky to share our farm and lives with this wonderful friend: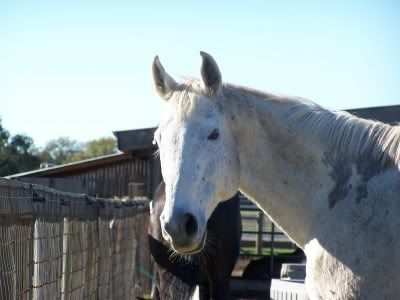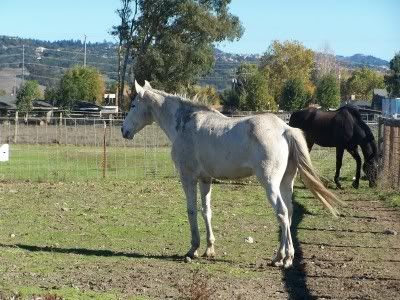 To celebrate the anniversary of Argus' liberation, I bring you wonderful news! The three remaining horses from Argus' former "home," Starmaker (age 22), Destiny (age 18) and Samanatha (age 12), were finally seized by Animal Control two weeks ago and are now safe and happy in CHANGE foster homes. This seizure is the culmination of months and months of work by Animal Control, the Sonoma County District Attorney's office, Dr. Miller and the Sonoma CHANGE Progr
am volunteers and board members. It was truly a group effort, and it was not without its share of nail-biting drama!
After Argus' former owner, Patricia Tremaine, was convicted of two counts of felony animal cruelty in September, she was ordered to give up her remaining horses. Instead, she suddenly moved them off her property, telling Animal Control she had given them away. Those of us involved in this case were devastated. How could this happen??? Several CHANGE board members did some digging and discovered that Ms. Tremaine had attempted to fool the courts and Animal Control, saying she'd given the horses away when in fact she'd kept them and had them hidden at a nearby ranch. Kudos to the amazing CHANGE folks for sticking to their guns and making sure justice was served for the three horses!
Destiny and Samantha
are looking for adoptive homes, and they are amazing horses! Destiny is a petite (15.1 hand) grey Trakehner-TB cross (a Tempelritter daughter for those Trakehner folks) who has been used as a lesson horse. She is broke, sweet, gentle and safe and should be sound once her hoof rehab is done.
Samantha is a GORGEOUS 17 hand bay Anglo-Arab mare. She is sound and an incredible mover. She has very little training and is not broke to ride. She has not even had her feet handled much, but she is coming around. Samantha is a project horse.
Stay tuned for
Starmaker's
rags-to-riches story. It's about as heartwarming as adoption stories come. He went to his new home on Saturday and is settling in nicely in his beautiful new barn. Starmaker's new family will do nothing but dote on him and make the remainder of his life wonderful. Sadly, Starmaker has cancer.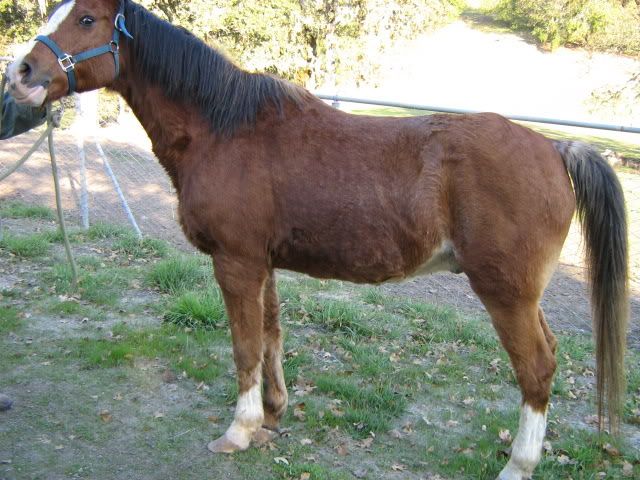 *********************************************************************************
Although the skies were, for the most part, sunny and mild, strange clouds seemed to loom silently over Watermark Farm throughout much of November. The sudden and shocking loss of our old horse friend Deema dealt a flattening blow to my normally happy family of horses and humans. It served to remind all of us, yet again, to savor all the precious moments of life, big or small, grand or meaningless.
I could not convey this to Ginger, Deema's grieving Shetland wife, who stumbled around in a daze for two solid weeks. To Ginger, my meaning-of-life observations meant nothing. To her, all had been lost on that awful Sunday evening that Deema died. Feed, comfort and companionship were meaningless. She was incredibly despondent. An animal communicator informed me that that Ginger was shocked and grieving terribly. I held the tiny Shetland pony often, weeping quietly with her as we comforted each other in the stall. Ginger, a tiny angel who has patiently carried many a young rider, looked so sad.
Also grieving was the third horse who roamed the yard with Ginger and Deema, a crippled old mare named Angel. Angel was rescued from a feedlot with her foal, both of them starving and filled with parasites. She has lived a happy existence since here at our farm.
Two weeks after Deema's death, the two old mares seem to have made sense of their sadness. They have become friends and are now grazing (and napping) together. Both are still subdued, but I hope that with time, they will find more meaning in the company of one another. Here, on a cold morning, Ginger and Angel nap together: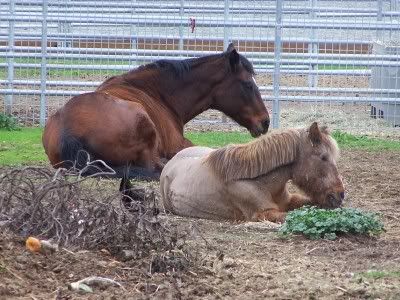 The cloud of November seemed to settle on Argus. Sick with pigeon fever, Argus moped around, fighting fevers that occasionally zoomed to 105 degrees. I hovered around him, wishing desperately to give him relief. Finally, the abscess ready to lance, Dr. Miller came for a visit. After having his huge chest lanced, Argus felt some relief! I am pleased to say that he is now well on the road to recovery.
Finally, so as not to leave you on a depressing note, here are some photos from a Pony Club trail ride. Shelby rode Odie the mule. It was a beautiful fall day here in the wine country of Northern California. Enjoy!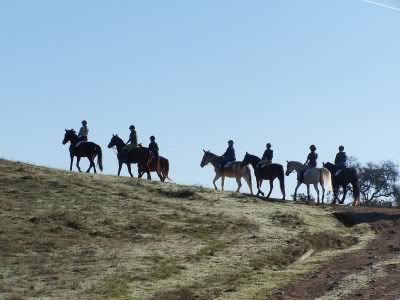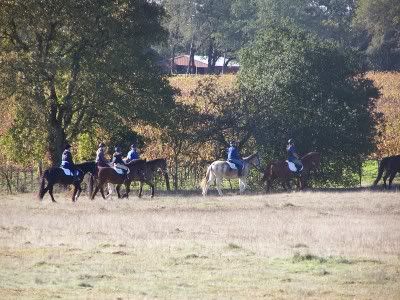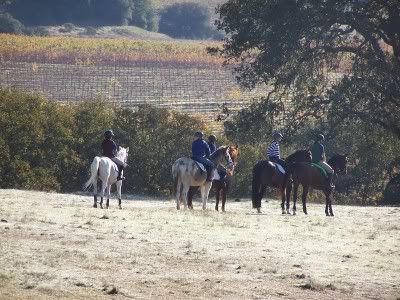 .