Today Argus received his second-ever hoof trim. He was a good boy, trusting CHANGE program volunteer, barefoot trimmer Linda Cowles, to go slow and easy. He was quite suspicious at first, but horses like Linda and try their best for her.



Our goal was to get Argus to let Linda pick up all four feet. We did better than that! Argus trusted Linda so much, he fell asleep while she picked up his feet. She was able to rasp all four feet ---- not a complete trim, but a great start that lays the foundation for good farrier skills for Argus.

For more information on barefoot trimming, and Linda Cowles, please visit her website at www.healthyhoof.com




Argus is a bit standoffish at first, taking cookies from me, but ignoring Linda.
You can tell by the look on his face that he is not too sure about this!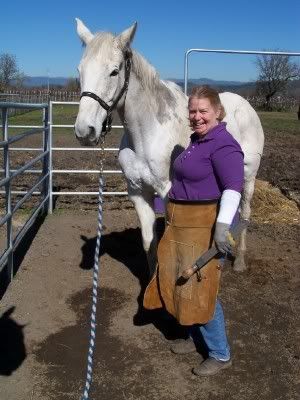 Here he is softening a bit and does not move away when Linda touches him.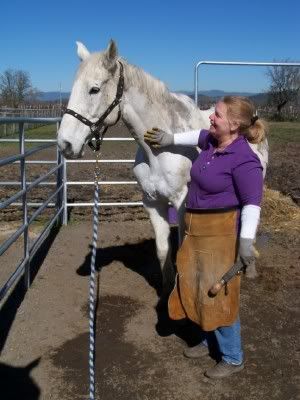 Argus relaxes, taking a few deep breaths. At first, he was starting to hold his breath, getting ready to flee. He even gave thought to rearing a bit, but Linda kept her smiley demeanor, and Argus soon melted.
She is avoiding looking directly into his eyes, which he might perceive as a threat.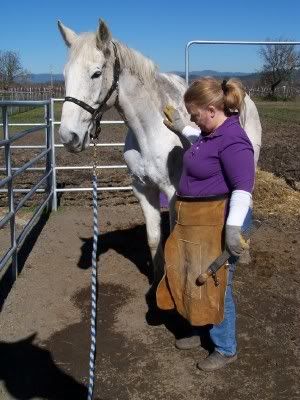 Argus is now comfortable and trusts Linda, a total stranger, to pick up his feet and hold them. Odie the mule provides moral support just inches away.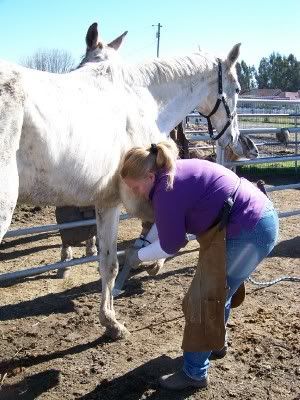 Argus begins to consider napping while having his pedicure. He held each foot up for Linda like he had been doing this all his life!