"I wish they made dissolving staples," said Dr. Grant Miller wistfully this morning, as he gathered his supplies. He is not looking forward to the experience of sedating needle-phobic Argus in order to remove the staples in Arg's head.
Still, Dr. Miller marches valiantly into the paddock, greeting Argus like an old friend. Argus peers at him suspiciously, yet with a warm look of recognition in his eyes.
Poor Dr. Miller. He is like two different people to Argus.
Person number one is "Dr. Miller," who dispenses advice and drugs and carries a pocketful of scary things like needles and forehead staplers. Whereas most horses submit to the routine of IV injection without fuss, Argus hates having his neck speared more than anything on Earth.
Person number two is Argus' friend Grant, a nice guy who swings by the barn when he's in the neighborhood to feed Argus cookies, brush him and snuggle. He is trying to show Argus that even vets are people, too. Grant reports that Argus is blissfully happy during these moments where they are fast friends.
Dr. Miller walks a fine line. One minute he's the scary vet, the next he's a friend bearing treats. Argus is figuring it out. Today, we had only a half-rodeo at sedation time. We were pleased. Dr. Miller cheerfully removed the staples in Argies' head (the cut has healed nicely), then cuddled with the big white horse. Argus, although sedated and woozy, was making mental notes: "Maybe this guy isn't so bad, after all?"
****************************************************************************
Dr. Miller just posted more current photos of Cowboy, plus a video montage (scroll down and see the photos dated 2/20 --- they show significant weight gain) Also see UTube video link! To check out Cowboy's amazing progress, go to:
Change - Coins to Help Abandoned and NeGlected Equines
Look at how much weight Cowboy gained in just ONE WEEK.
*****************************************************************************
Photos of Argus this weekend ---- PROMISE. My camera battery died, and I have misplaced the charger.
Meanwhile, wouldn't it be fun to look at some photos side by side? Here we go:
GROUND ZERO, NOVEMBER 2007: Argus in his pen of 16 years: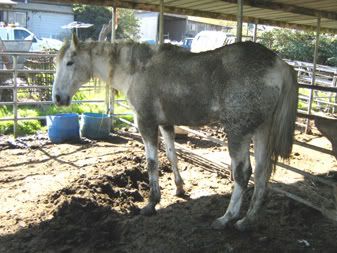 DAY TWO: DECEMBER 9TH, 2007 at Watermark Farm. The woman in red is a friend who does some amazing animal communication work. She had a good chat with Argus. Soon after, we cut off the horrible Howard Hughes mane. Argus was very happy. I saved the mane, which filled a huge ziplock bag.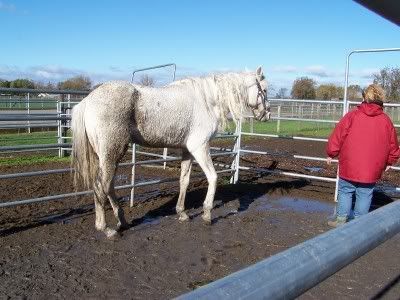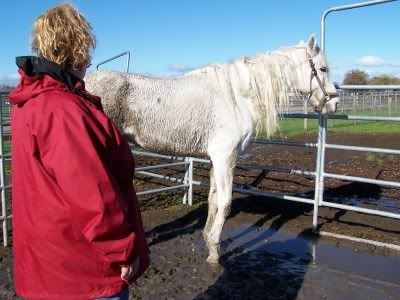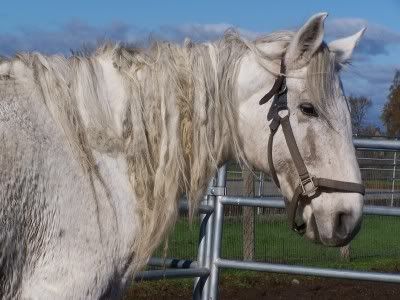 DAY TWO, FIRST WALK OUTSIDE THE BARN:









FEBRUARY, 2008: BODYCLIPPING. Argus snoozes (sedated) while his foster mom gets some heavy winter hair off. He seemed proud of his sporthorse haircut the next day, proudly showing it to the other bodyclipped horses.