My face felt warm and prickly, but not from the sun, and a subtle mist of tears blurred my vision. I felt a liquid smile spread from my mouth to my ears. It was a private moment, just me and Argus, but it felt strangely familiar.
Here in the midst of my bare dirt pasture, I stopped walking the grey horse for a moment and paused to look up at him, with his curious expression and sense of quiet alertness. I realized then that I was feeling that same old rush I used to experience during the magical few moments at the completion of a three-day-event, when all my efforts to compete culminated in the group "victory gallop" around the stadium jumping arena.
Sometimes a bright ribbon fluttered gaily from my horse's bridle; sometimes it didn't. For the most part, I was content to bring up the back of the pack, alone in my thoughts with my horse cantering boldly beneath me. It was these times that I remember most vividly, for despite the cheering friends, the scratchy music playing over the loudspeaker, and the thunderous dust cloud of talented horseflesh galloping ahead, I was eerily alone with my horse in our own quiet place. We were a team. It was me and him --- friends and partners --- against the world.
This is how I felt yesterday, as I paraded Argus around the empty winter pasture, the only music being the rustling of the wind through the dormant grapevines; our only audience the lonely pair of Canada geese who rode out the winter here. Here we were, Argus and me, taking our victory lap together. He led calmly, carefully. He did not shake or sweat. He looked and sniffed. He was a gentleman, light as a feather on the halter, responsive, easy to handle when he spooked. We inspected fences, the shelter, and discovered the waterer. Argus took it all in stride, as if he'd explored strange pastures before.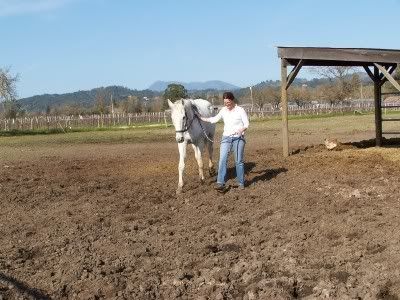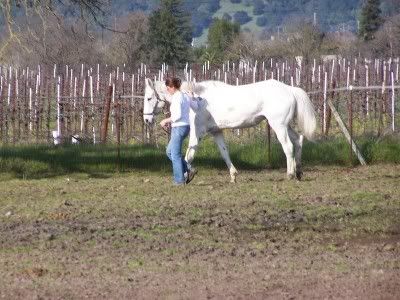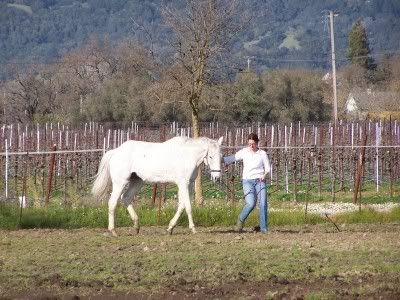 After I was satisfied that I had taught Argus the lay of this new land, I released him. He walked off smartly, exploring every square inch of dirt. Not ten feet from me, Argus was overcome with the urge to roll.
The pasture horses, penned up in the adjacent paddocks, watched intently. (Half Pint, who was to be Argus' trial turnout buddy, was feeling too rambunctious to be trusted; Argus took his maiden spin in the pasture by himself). They seemed to understand this was a fragile thing.
I stood in the center of the pasture, clutching a halter and leadrope and my camera. Like a toddler, Argus strayed only so far, returning to me often for a hug and some reassurance.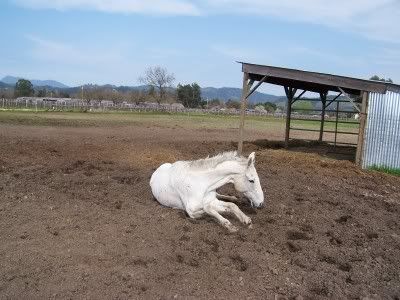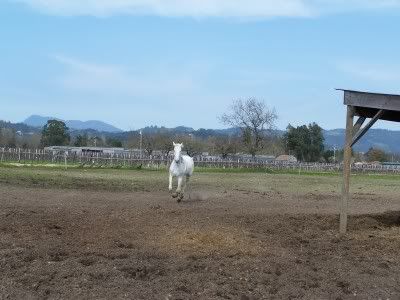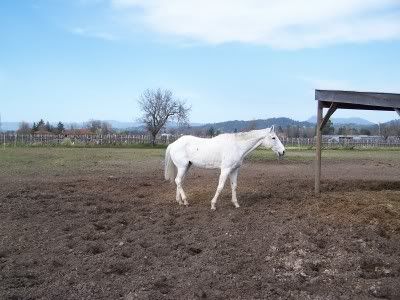 I am so proud of you, buddy!!