Even Neighbor Jim has gotten into the Argus project. He loaned me his pasture.
Neighbor Jim loves FFA (that's Future Farmers of America), the county fair, and anything relating to pigs. He used to raise food animals at his place, and he did it right, with good care and a quick end at home. Neighbor Jim doesn't see much use in horses.
These days, with Neighbor Jim's kids grown and gone, his empty barn echoes with the ghosts of 4-H projects past, and the beautiful pasture is knee high with the last vestiges of grass he so carefully planted and tended over the years. I drive by it every day, on my way down the driveway to our farm. It hurts me just to look at it --- a whole 3 acres gone wild.
One day recently I cornered Neighbor Jim and screwed up the courage to ask a question that I was sure he would answer a resounding
NO!
to:
"Would you consider," I pleaded, "letting me turn the horses out on your pasture?"
After all, it would be so simple to install a gate between his pasture and mine. It would be like a miracle, all that extra grass. I braced myself for his answer. At least I had tried.
"You gonna put that big white horse out there?" (Neighbor Jim waved his hand at Argus.
Everybody
knows Argus' story it seems, even Neighbor Jim)
I hestitated, then answered meekly: "Yes?"
Neighbor Jim grunted back, grinning slyly over his shoulder as he trudged toward the house: "Do with it what you want. It's all yours."
After that, the Watermark Farm work crew (that's me and the four children) got to work. There was fencing to repair, hot wire to string. Barbed wire to remove. T-posts to cap. More T-posts to cap. Even more T-posts to remove and hide in a pile far away. Chicken eggs (that's my rent) to deliver. Pony rides (more rent) to give the granddaughter of Neighbor Jim.
Our four acres of pasture plus his three acres = 7 ACRES!! That sounds silly for those of you lucky enough to live someplace where you have acres and acres at your disposal, but here in Sonoma County, and especially the part we live in (a tiny pocket famous for its Pinot Noir grape growing mojo), land either has homes or grapes growing on it, and that which doesn't have either of these has a "For Sale to Big Corporate Winery" sign out front. Heck, billionaire wine guy and racehorse owner (think Curlin) Jess Jackson has a nice 'little' winery just down the road. Seven acres of horse pasture? Heaven!
I finished all the preparations on Saturday, my eyes puffy from Dancer's burial that morning. The horses still in a state of shock. Here's a picture of them, mourning (the black horse and the bay mare were especially affected, both of them part of Dancer's inner circle). They looked so depressed. What else could cheer them up besides a field of green?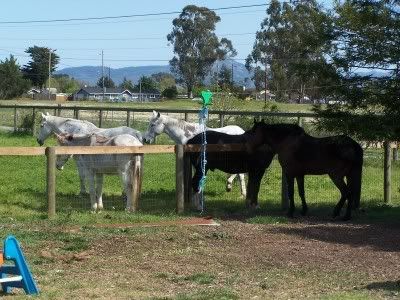 Sunday, my long-suffering husband installed the gate. We led the horses through the new gate (which really blew their minds --- an opening where there once was none) and around the new "annex." It was all a formality, really, because they were so intoxicated by the tall grass (as opposed to our fetlock high grass) that a jet airplane could have landed on the driveway and they wouldn't have looked up.
Argus seems to relish every step he takes out there. He follows Ridge like a puppy dog, observing his movements and mimicking him. Ridge has proven to be a valuable teacher and mentor, taking Argus under his wing (almost literally) when Argus feels insecure and starts his whole-body shaking (yes, he still does it). When my heart is heavy, I need only look at Argus out there to feel that all is right with the world again. It's been a lot of work, saving Argus, but here in the pasture, it all makes sense.
That's Andy the goat, by the way. He is Half Pint's friend. Everyone else pretty much tolerates him. And no, we don't leave the portly Half Pint out there long...