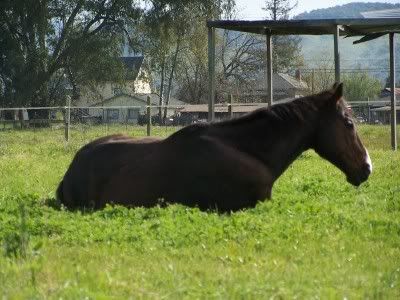 This picture of Dancer was taken just two days before his death.

It has been a sad few days at Watermark Farm, and twice I've started to write about it, but twice I've closed the computer and walked away.
On Friday evening, as I was finishing the day's chores, our retired boarder "Dancer" galloped in from pasture. I watched him and the rest of "the boys" as I always do. They cantered around the big grassy pasture for a moment, then turned west and headed into the winter pasture, toward home. I turned away for a moment to pick up my wire cutters.
When I turned back, Dancer stood in the middle of the field, his right foot cocked. My intuition told me what my brain would later confirm: something was very wrong. I watched him for a moment, thinking that he'd stepped on a stone and would move on once the sting had subsided, but he stayed glued to the spot, unable to bear weight on his leg.
I've written about these moments before, the reach-for-your-cellphone-to-call-the-vet moments where everything seems suspended in time. I reached for my cell phone, only to find it missing. I screamed for the children. The girls ran out and brought me halters to catch the now alarmed herd, who ran circles around Dancer in a frantic effort to re-start their leader.
I cradled my cell phone in my hand for what seemed like an eternity, but in fact was only a moment, sadly aware that the calls I was about to make would change lives: Dancer's and his owner's.
Dancer stood calmly in his spot, his shoulder swelling rapidly. His pulse and respiration skyrocketed. I called for the girls to bring me a blanket. He was starting to sweat.
You know things are bad when you make the first call to the vet. It's not a "will you come and check this horse?" call, it's a "you need to get over here NOW --- we have a major emergency" kind of call. The vet arrived within 10 minutes.
The next calls were made with my heart in my throat. To Dancer's owner, a kind woman of ordinary means who has kept the 19-year-old Thoroughbred pensioned with us for four years. Dancer came into her life, abandoned at a boarding stable. He never really stayed sound, so after a couple of years of plunking away with him, she sweetly arranged for Dancer to spend the rest of his life boarded with us. For four years, she faithfully made, through rain and sun, sickness and family circumstance, the three-hour roundtrip to visit Dancer and make up his ziplock bags of grain. I grew to look forward to the sight of her little black car pulling into the barnyard on Sunday afternoon.
Dancer's owner left home and drove quickly, but time and circumstance were not on her side. The vet suspected that Dancer had fractured his scapula. Either way, the horse, now drenched with sweat, was in unspeakable pain. I delivered this news to her through tears, a kind of pleading. "Please let us put him down now. He is in so much pain. He cannot wait any longer." She was just 45 minutes away, driving quickly into the night to be with her Dancer.
The vet needed no instruction, he just sadly walked back to his truck when he saw he hold my cell phone to Dancer's ear. In this way, his beloved "mother" spoke her final words to him. He stood quietly and listened while she said her last goodbye.
Through the growing twilight, I saw the vet walk back toward me, two large, pink syringes in his hand. I got that familiar lump in my throat. A friend once described putting a horse down as "the loneliest feeling in the world." I think he is right.
Dancer left this world quickly, and with dignity. The last thing he heard was my voice as he fell to the ground. I quickly slid myself under his head and cradled him in my lap as he slipped away. I will miss him terribly.
People who say that these things do not affect animals are ignorant. That evening, I visited each horse in their paddock. They were restless, calling to one another. As I went to each one, I said "Dancer is gone and he is with the angels now." They sighed, taking a big, deep breath.
Early Saturday morning, a lovely man with a big backhoe arrived early. While he dug a grave on the outskirts of the property, I took each horse to see Dancer's body. Half Pint, his best friend, nuzzled his face and licked around his eyes. They all stared long and hard before investigating the body with a kind of grace and kindness. After a moment, they asked to be taken away.
Argus had watched everything from his paddock, from Dancer's last breaths to my "go see the body" procession. I questioned whether I should lead him out there, finally deciding that he deserved to go. I felt proud of him as he calmly walked out there, the backhoe grumbling nearby, and we stopped just short of Dancer. Argus very carefully approached the body, still wary of the dominant alpha horse. He slowly leaned down to sniff Dancer, exploring his face and neck. Then, like all the other horses had done, he seemed done looking, and wanted to go back to the barn.
Later that morning, once Dancer was laid to rest and his grave smoothed into a comforting mound, the girls decorated it with calla lillies and roses. We turned the horses back out into the pasture, watching them as they negotiated their way over to the freshly-turned earth.
A while later, I looked over to see a curious thing. Odie the mule and Argus had eaten all the roses, and Odie was curled up, sleeping, at the base of the grave. Argus and the other horses stood solemnly nearby, a little lost without their fearless friend.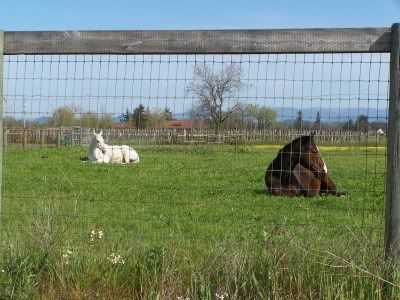 Dancer and Ridge enjoyed taking a mid-morning nap in pasture just last week