Life at Watermark Farm has been sailing along at a fast pace. Four children tumbling headlong toward the glorious end of the school year has made for one busy June so far. Yesterday was the long-awaited First Official Day of Summer Vacation.
As if to usher in summer and its horsey delights, the start of vacation began with our regular appointment with Mare The Farrier. The girls and I dragged out our assortment of ancient, one-eyed, permanently lame equines and Mare got to work.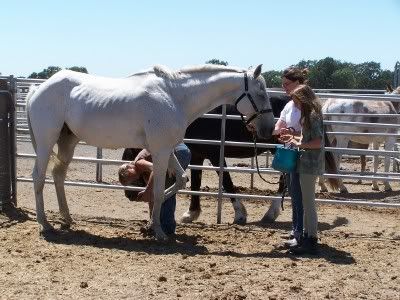 I'm lucky to have Mare as both a friend and a talented shoer. She has a heart of gold and the patience of a saint. We sit quietly while Mare tells us about her recent Journeyman Farrier test (where she had to hand-forge shoes from bar stock for a horse she'd never met before, all within 2 hours, and all done to exacting specifications).
She talks to the children about hoof health, listening to their questions and concerns as if she were speaking to an adult. The girls feel empowered by Mare; they are unafraid to ask silly questions,and are inspired by seeing this pretty, petite woman trim hooves, pound steel, and hunker down under 1000 pound horses.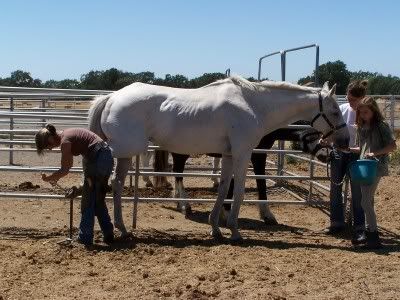 This was Argus' second trim with Mare; it was his fourth trim since his liberation in December 2007. His fourth trim ever. I am amazed at his progress and how cooperative he is for Mare now.
"He's like a baby," she remarked while trimming him. Mare moves deliberately and speaks gently to Argus, quietly asking him to hold each foot up for her. Argus is very much like a 2-year-old, gangly and unsure of his body. He tries hard to please, works to comply, and occasionally has no idea what you're asking of him.
With the trimming, we take it slow, because all this is still very new to Argus. Argus stands by the pasture gate, where he feels most comfortable. Half Pint is positioned in an adjoining paddock, offering support (you can almost hear him saying
"That's it! Put your foot up on that stand and keep it there!
). Mare lets me hand-feed Argus when she's got his foot up. It seems to work. I keep Argus plied with a bucket of treats and he gets rewarded for his amazing efforts. We can do this because Argus is exceptionally kind when it comes to people, and although he is eating, he is very much aware of Mare's presence under him. He truly is an incredible horse.
I wish I could get more weight on him. He looks thinner this week than he has in the past, and it worries me. It's time for a progress evaluation with Dr. Miller.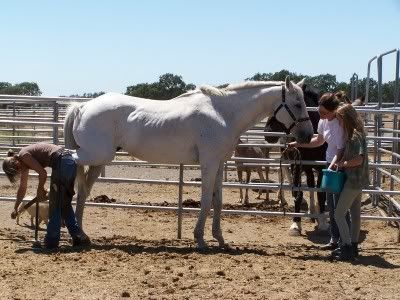 Life at the farm has its funny moments. I've finally taken photos of our silly rooster, Bronze. This young rooster spend his nights sleeping on the back of whatever horse is stabled in the barn. Usually, it's Ginger the Shetland Pony. Yesterday, it was Half Pint, who's on paddock rest due to a bad fall in the pasture a few days ago.
Yesterday, Bronze had no intention of getting up for the day. He spent most of the morning happily perched on Half Pint's back, crowing occasionally, riding from the barn out into the paddock, and back again: