For a week, the skies of Northern California were choked with the smoke of hundreds of wildfires. Although our county was spared (for now), the counties to the north (Mendocino) and east (Napa/Solano) waged their own tough war against flames that licked their way up steep, wooded slopes and through fields of brittle grass. It's summer, and California's fire season has arrived early.
Here at Watermark Farm, the horses stumbled about through the haze. The beautiful Sonoma County hills that surround our farm were obscured by smoke, making it look like we were sitting in the middle of a vast, polluted valley. My hair smelled like campfire 10 minutes after showering. I could barely make out jewel-like vineyards around us.
All in all, Argus and friends survived the week well. Those few residents sound enough to be called riding horses took the week off, and the rest lived life as usual, roaming the pasture in search of a tasty weed.
The warm weather finally brought the first real crop of flies, although thanks to the tiny, stingless wasps called "fly predators" (we release them every three weeks), our farm has a blessedly low fly population. Even so, it was time to introduce Argus to the joys of a fly mask. He surprised me, as always, by complying quietly while I slipped it over his ears, no halter, right out in the middle of the pasture, with a look as if to say "
Oh, OK, I have no idea what this is, but if you want me to wear it, I will!
" I may be anthropomorphizing, but I swear he looked quite proud of himself while he wore that fly mask all day. It bears the name of much-loved boarder, who died a few months ago:
DANCER
Yesterday, a frazzled Dr. Miller made a visit to Watermark Farm, a victim of a long pleasant vacation and a hit-the-ground-running start back into the Real World. It was, he said, his first
real
vacation since graduating from vet school. "I've had my hands inside a cow all morning," he said, "and horses don't like the smell." I winced. He went on to tell me about the cow surgery, all the while washing his hands with something flowery.
We walked out into the pasture, where Argus' eyes grew big and wide at the sight of Dr. Miller. I haltered him. He began to shake. The protective mother part of me wanted to whisper to Argus:
"Stop shaking! Knock it off! Get a hold of yourself! You are making this man who saved you feel BAD
!" Dr. Miller smiled ruefully. "It's Okay," he said, "I represent the worst day of his life."
Dr. Miller edged toward the quaking Argus. I'd asked him to stop by to evaluate Argus' weight, which he deemed "thin, but Throughbred thin." He told me that Bobby, the other horse rescued from 16 years in the mare motel, was the same way: the foster home could not make him fat. He explained further that in cases of chronic malnutrition, when the body realizes that it does not receive various vitamins and nutrients, it "turns off" its ability to receive and utilize those nutrients. So for Argus, he may always struggle with weight and a certain level of malnutrition because he may have permanently lost the ability to metabolize some things. The thought of it made me sad. And angry.
Overall, Dr. Miller was pleased with Argus' progress. When I finally turned Argus loose back into the pasture, he cantered away with a sassy air. To see this horse trot and canter still brings tears to my eyes. Argus is so very happy, you can see it in his eyes. A look of absolute contentment, of soaking up every single moment life brings, smoke and pasture, scary vets and evening grain. Argus has started being ever so slightly obnoxious as he waits for his evening 6 flakes of hay (!) and his little bucket of supplements. He weaves a bit, and stamps the ground, and nickers at me! How can I not enjoy every moment of his anticipation, however silly, for it's so rich with joy and expectation.
My conversation with Dr. Miller moves to the side of his truck, where he gingerly pulls out a folder and shows me the stack of court documents he pores over in his spare time. "This is all volunteer work," he says, "it's a lot." I can hear in his voice a mixture of pride and exhaustion. Dr. Miller helps the Animal Control departments of two counties, Sonoma and Marin, by testifying at pre-trial hearings and trials of those accused of animal abuse. He does this in addition to responding to calls to inspect neglect/abuse cases. It's heartwrenching work, and scary too. People who abuse animals are not nice people. Dr. Miller has one trial coming up this month. He shows me a photo of a horse laying down, its head the only thing visible through a slightly open stall door. The horse is dead, locked inside a stall without food and water. This case comes up soon. Two other horses survived that hell. One comes to me today for training. Her name is Katie, and she is a rideable, athletic, gorgeous 9-year-old Thoroughbred mare. Stay tuned for updates. Katie is available for adoption. She has "sporthorse" written all over her! Katie must find a lifetime home with someone who will cherish and enjoy her: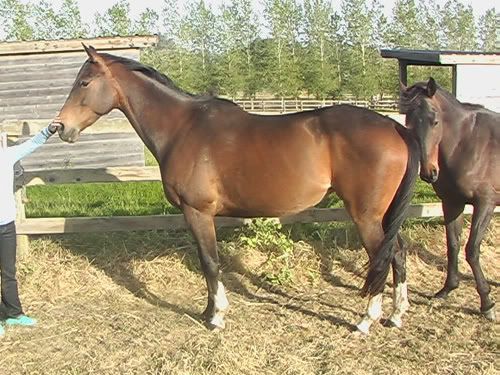 Dr. Miller asks me to keep a date in August open for yet another trial. It's for Argus' former owner, the hoarder who kept Argus and Bobby penned up in 12 x 16 mare motel pens for nearly 16 years. She has four other horses still in her possession. She has pushed her case all the way to a jury trial. Dr. Miller says that hoarders tend to do that.
So there's a lot going on, and in the middle of it, horses are in need of permanent homes:
Argus (companion horse only; must stay in the Bay Area)
Bobby (Argus' friend in hell; sweet older TB; companion only)
Katie (rescued 9-year TB mare; sound, athletic well built, good mover, great sporthorse propect!)
Please feel free to email me (watermarkfarm1@yahoo.com), or contact the Sonoma CHANGE Program (www.sonomachangerogram.com) for adoption information on any of these wonderful horses.
Thank you for all your support!