The summer is whizzing by at Watermark Farm, and everyone, both two- and four-legged, is having adventures.
Katie, our newest foster horse brought to us by the Sonoma CHANGE Program (www.sonomachangeprogram.com), has had some first rides and a trip to a local show. Katie is the friendliest, most level-headed horse! She looks more like a warmblood than a Thoroughbred. Although Katie is only track-broke, she rides reasonably well and has a soft mouth.
Katie's favorite pastime is to have little girls decorate her:




My first time on Katie's back. She's one mellow girl, so it was quite pleasant:





*********************************************************************************
Odie The Mule has had the busiest summer of all. Two weeks ago, Demi and I braved a full day of 102 degree heat to take Odie to a ranch where the Discovery Channel show "MythBusters" was filming a segment related to "horse myths." One was "If you lead a horse to water, you cannot make them drink." Watching them film this interesting show was quite humorous. They are earnest in their attempt to be as scientific as possible.

Their second experiment was to take both a horse and a mule and see if either would follow a carrot tied to a stick, the way you see in cartoons. Again, their efforts were both humorous as well as sweet. It was hard to stop laughing at times, which is difficult when the sound lady is giving you her death look.

Here, Odie gets to meet one of the hosts, who is dressed for the occasion. Odie was VERY interested in such a large carrot:





Two of the show hosts, along with the director and cameraman, prepare to film a segment where they ask Odie to follow a carrot on a stick:





Did Odie follow the carrot on the stick? When the show airs in a few months (I will post a date), you will find out.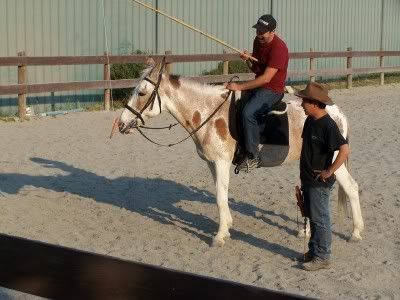 ********************************************************************************
Yesterday, Demi and Odie competed at the Sonoma County Fair horse show. They had a great day, placing 1st in Hunter Hack, 2nd in 2'6" Hunters, 2nd in Equitation Over Fences, and 5th in Jumpers, all against large classes of about 15 kids! Demi was elated at the end of the day to find out that she'd won Reserve High Point --- all on a mule!

******************************************************************************
Argus is doing so well! He had his second appointment with Dr. Guyton, the chiropractor, who was all smiles when she discovered that he had IMPROVED chiropractically since her last visit, maintaining movement in his pelvis!! Argus cooperated nicely for the work (no small feat considering this horse was fearful of human touch eight months ago), and fell asleep after his adjustment. Later that evening, out in the dark, I heard muffled horsey footsteps. A big flashlight revealed their source: Argus was cantering beautiful, balanced circles out in the pasture, all by himself, like a hunter going through its paces.
Argus is finally gaining weight. I've figured out a routine: Bring everybody in from the pasture at night, put out 8 flakes of good hay, and let Argus eat all night. He's relaxed enough in the pasture to eat, and he free-feeds that way. I think he's gained about 50 pounds.
The feeling never gets old. I look out at Argus and watch him race through the pasture, and I am filled with emotion. I hug him while I give him his evening grain, and the look of gratitude in his eyes makes me cry. I comfort him while he bravely submits to farriers, vets, and chiropractors, despite some fear of it all, and I am overwhelmed by his continuing trust of people. To see and be with Argus is to experience a simple kind of joy that we often overlook in our complex lives.
*********************************************************************************
Welcome to Cayenne!!
Cayenne is a 19-year-old Thoroughbred gelding who was sold at auction to a slaughter buyer and landed at a feedlot, awaiting his trip to a Canadian slaughterhouse. A friend saved his life and brought him to Watermark Farm last Monday. He's an ex-racehorse, and has the manners of a southern gentleman, but he's a sad soul who's not seen much care in recent years. Cayenne's tail was matted into one huge dreadlock that started at his tail bone and went to the ground. It could not be untangled, so his tail had to be cut off.
At age 19, it's amazing, but, we read his lip tattoo and were able to find out who he is. His Jockey Club name is "Mac Attack," and he is a former stakes racer. Where he has been between age 4 and 19 is anybody's guess. He's sound and rideable. Cayenne will be available for adoption once he's been fully assessed --- probably in about 6 weeks.
Poor Cayenne looks a bit dedraggled. His body has many scratches and scrapes from his precarious existence (auction yard, feedlot) over the last few weeks. His spirit is rather sad, so he is getting lots of love, treats and TLC.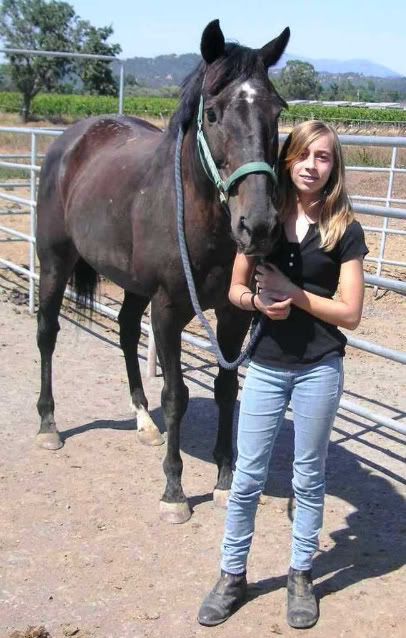 *******************************************************************************