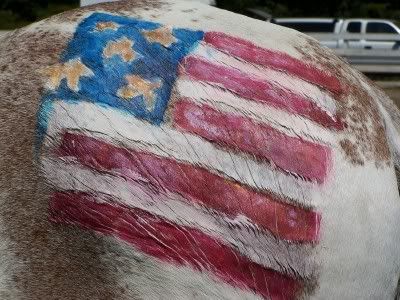 ARGUS stood in the center of a tight semi-circle of horses, flanked supportively by Ridge, Half Pint, and Odie the Mule. He faced west, and a little bit north, his head raised appreciatively, his eyes merry. Not-so-far-off, in the distance, twinkling fountains of lights spewed over the horizon, sending off a delayed "BOOM," and repeating themselves again. Red, blue, white, green, fat, thin, round, flat; Argus' first Fourth of July fireworks show played on, much to the obvious delight of this yearling in a horse's body. He was not afraid, only fascinated. No shaking, just brown eyes like big, shiny buttons, taking in his first real Fourth of July.
Here on the farm, with our glorious 360-degree vistas, a clear-skied July 4th presents us -- and the horses --- with an array of subtle fireworks samples, small and far away. To the southeast, Santa Rosa shows it colors. To the west, we can catch a glimpse of the tiny Sebastopol celebration. Northwest of us, the town of Windsor gives the best show for our farm-view money.
In all my years of watching distant fireworks from the perimeters of the paddocks (and comforting nervous horses), I have never seen a show so bright, so seemingly close up, as I did this year. I was late in bringing the horses in to their comforting enclosures, and so, in the dark, alone, at 9:30 pm, I began my task. Ken had taken the children to Windsor to lay underneath the spectacular show; I stayed home to tend to our dog Snoopy, recovering from surgery, and two horses who hadn't spent a fourth in our care --- Argus and Katie. We never know what horses will do on this holiday.
Back to the semi-circle of horses.
All four quietly watched the 40-minute show, and I, in turn, watched them. The faint flicker of lights from the fireworks lit Ridge and Argus' white faces with an eerie glow. Black Half Pint kind of faded into the dark, only his eyes flashing on occasion, while Odie's white face stood out, his cookie-colored body mixing warmly with the blanket of night. I watched them as a mother watches her children, delighting not in the events themselves but the way it pleases those she loves; the irony was not lost on me. Most times, I am watching the happy faces of four human children, but tonight, I watched the smiling faces of my four equine children as they stared at the beautiful show.
What astounded me was that not one was nervous. They were clearly enjoying the mystery that appeared before them on the horizon. They stood within inches of each other, gently pressing against their neighbor for security. Here in the inky darkness, I stood quietly, watching the fireworks, just me and my horses. In a life full of memories, I was keenly aware that this one in particular would rise to the top, like rich, sweet cream, to be enjoyed over and over in my mind.
It was a reminder of how far Argus has come. Liberation is both physical and mental. Argus' body was freed seven months ago, but his mind has taken some time to catch up. Watching him enjoy the fireworks on Independence Day made me realize that Argus has turned the corner and is free, at long last.