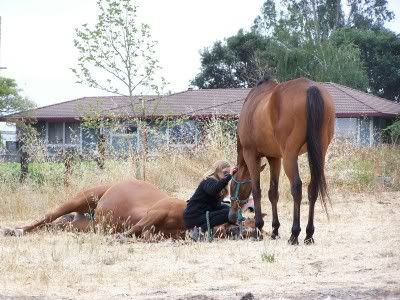 Pockets nuzzles Sunny's body as he says goodbye to his friend
Last Monday, I bid a teary farewell to our mare Sunny, a horse you have not heard about. Sunny was rescued from a feedlot in 2006 and brought to Watermark Farm to be rehabilitated and adopted. As many who've dabbled in feedlot rescue know, it's a crapshoot and you don't always know what you will get. In Sunny's case, what arrived was a motherly mare who loved children dearly, but who would never be sound.
Sunny, like so many racing Thoroughbreds, had become obsolete. Once raced at the famous Santa Anita track in California, she left behind an insignificant racing career to become a mother of three. During her time as a broodmare, Sunny was kept in a pasture with barbed wire fencing. One day, her foot became caught in the fence, and it "nearly tore it off," according to her breeder (whom I once spoke with). The damage to Sunny's foot was significant.
In 2006, with no baby at her side and a bum foot to boot, her breeder and life-long owner sold her to someone who, in turn, sent her to slaughter.
She was just 11 years old.
Sunny proved to be a wonderful companion horse, but people are afraid to adopt a chronically lame horse. After a year of looking for a home for her, I resigned myself to the fact that
I
was Sunny's permanent home, and retired her to a nearby farm, where the soft pasture footing would be kinder to her increasingly lame foot (for those horsey folks, her coffin joint was fused, she had massive low ringbone, and her navicular bone was lost in a mass of calcification; her xrays were so severe that even my seasoned vet sucked in a sharp breath when they appeared on his laptop screen).
Over the past 8 weeks, the pain in her foot became significant. The bad days outnumbered the good. More and more days came that Sunny's once happy brown eyes wore a cold, sad haze. She could no longer run with her companion, an elderly Thoroughbred named "Pockets." She spent most of her days curled up in her stall.
With a heavy heart, I made the decision to put Sunny down last Monday.
Sunny and Pockets loved each other. They were never out of each other's sight. The farm owner worried about how Pockets would do without her.
Sunny was sedated and peacefully put down on a cool Monday morning, Pockets standing nearby. He stood quietly, but worried when she went down. Afterward, I brought Pockets out to Sunny's body. He stood nuzzling her mouth, blowing gently into her nostrils. My daughter began to sob.
Pockets stood protectively over Sunny's body for an hour. Demi and I sat with him, brushing his mane and caressing him, watching his sad eyes. I began to worry that Pockets' grief would get the best of him. Just at that point, he turned and marched back toward the barn. I turned him out with another mare.
He bolted out in the pasture, inciting all the horses on the ranch to take one last victory gallop for Sunny.
In memory of Sunny ---- Jockey Club name "Wasp"
March 16, 1995 - July 21, 2008
13 years old