You could almost hear him shouting: "
My bum is clean! My bum is clean!
" as he scrambled in a circle around me, wild with a kind of half-frightened, half-satisfied excitement. It was Argus having a bath, but this time "going all the way." For 15 years, water and baths were not part of Argus' life experience, so the going has been slow. Months of hosing only the front legs, then the chest. He learned to like that. We moved on to the back legs and the belly. Then the neck and shoulder. And finally, yesterday, my patience wearing thin, I went for it, told Argus to "get over it!" and hosed him down completely. He stood quietly for most of it, but circled wildly around me once we got to the forbidden zone: his rump.
So yesterday, Argus stood before me, shaking and quaking but not terribly afraid. We both got a bath, my bum being the only dry part of me simply because it was located on the opposite side as my soaked front. Argus stood, dripping. I patted him and cooed at him: "Oh, Argies! You are SUCH a good boy! You are SO smart! You are the BEST and SMARTEST horse ever!"
Argus looked pleased. Argus looks pleased a lot these days.
I released him back into the pasture, where his twin and constant companion, Ridge, stood waiting. They commiserated for a moment, breathing secrets into each other's nose. Maybe Ridge was telling Argus bath stories from the race track, but whatever, they both stomped off in mock disgust at my insistence that Argus have a wet butt.
And they both rolled right in front of me, one wet, one dry, as a show of solidarity.
This full-monty bath came on as a result of the fact that Argus was actually
really sweaty
. For although Argus leads a life of movement and leisure in a 6-acre pasture, and he trots and canters neat little circles on a regular basis, he doesn't exactly break a sweat. Let's just say that he need "more cardio."
Behind our property is a hay field that's farmed by a grumpy hay rancher. Finally, Mr. Grumpy Hay Rancher has picked up the 650 bales that peppered the field. They sit in a neat stack. We ride in this field every year once the hay is picked up, so yesterday Demi and Odie The Mule took their first hayfield ride of 2008. Argus' eyes practically popped out of his head. Back to the old high-headed, distant gazing stance he went, spacing out and trembling at the sight of a speck of white mule cantering 20 acres in the distance. All the other horses looked out at Odie in the hay field with amusement. For Argus, it was A Big Event.
"What a horse he might have been," I thought as I sighed and watched this magnificent animal, with his fabulous, uphill, suspended trot float around the pasture. "He had the talent to be an upper level horse," I observed as Argus' picked up the canter, making a tidy 20 meter circle to the right, then executing a perfect flying change of lead before re-balancing himself and circling left.
If you squint your eyes when Argus moves like this, blurring your vision for a moment and ignoring the disturbing pelvis, the ribs, the sea of awkward, jutting bones, the hooves flared to support years of constant weaving, the freakishly unlevel sacrum, and a front left limb that quivers from knee arthritis and contracted tendons ---- for a moment, you can imagine Argus in braids and a saddle, chugging down the center line in a dressage test.
He'll never carry a rider. For his deformed body, it would be too painful. So Argus executed his own little test out in our pasture as he watched Odie in the distance. When he had completed his workout, his neck and shoulders were glistening with a kind of healthy, clear sweat. Just like a sporthorse in training, Argus ended his session with some words of appreciation, cookies, a bath, and a roll. I like to think the other horses were giving him nods of appreciation, and maybe a "10" for effort. I certainly was.
*****************************************************************************
Katie is coming along so well! She's learning the fine points of half halt (translation: BRAKES), and yesterday took her first trail ride through the vineyard with me. It's always an adventure to retrain a horse whose earliest rides took place at a gallop in a large, open space (the race track). Katie took one look at the long, manicured rows between the vines and I could feel her heart start to pound, some distant memory awakened. "No Katie," I told her, "no racing today." Riding a somewhat unknown track-broke horse out on the trail for the first time can be an adrenaline-filled experience, even for the most experienced person. Katie was a doll, soft and mostly calm, never spooking even when vineyard irrigation pipes made snake-line noises at her.
On our maiden trail ride, we kept Katie sandwiched between Odie The Mule, who is a trail expert, and Ginger The Shetland Pony, who's older than time. Katie appreciated her company's casual approach to the whole experience and didn't seem to mind that her field no longer consisted of fellow fine Thoroughbreds but a funny old mule and pony. She buried her nose in Odie's rump and used Ginger as a convenient place to scratch her itching head (an activity curtailed when it was learned that Katie had secret plans to
kick
Ginger!). Katie finished the trail ride at the back of the pack.
Katie is such a wonderful horse; she deserves a lifetime of love ahead. She suffered unspeakably at the hands of someone who felt she didn't deserve to be fed. Her former owners will stand trial on felony counts of animal neglect in early October. I will attend the trial (and as we get closer to it, I will post the trial information so that locals can, too!) in early October and let you know what happens. It was quite an experience to sit in the courtroom recently and watch the defendants enter their "not guilty" pleas. I kept hearing Dr. Miller's voice: "Katie was surviving by eating horse manure." I can still see the image of Katie's dead companion. Are the defendants at all haunted by the misery they created?
Not guilty? We shall see.
Last month, a Colorado reader of this blog emailed me, asking about Katie. Long story short, after weeks of emails and phone calls and reference checks and more reference checks and more phone calls and more emails, this potential adoptor is driving to California from Colorado AT THIS VERY MOMENT to meet Katie!!
Stay tuned for the next chapter of this story! The adoptor and I will spend the next four days together getting to know each other and Katie.
Katie's recent rides: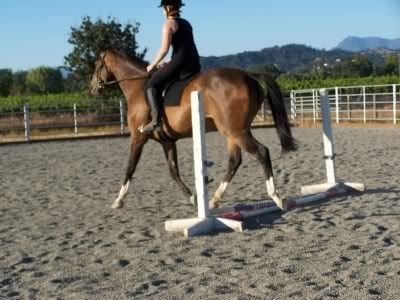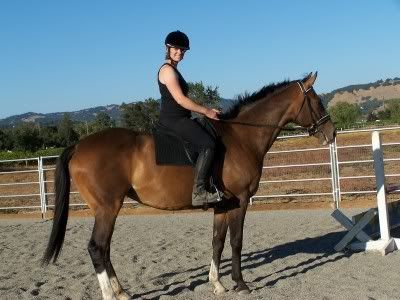 ********************************************************************************
Cayenne is now Caleb, after the biblical Caleb who survived hard times to find the promised land. This darling little horse absolutely
shines
. He loves his new, more fitting name and seemed to know it instantly.
Caleb and I are working on basic dressage in the arena. My sense is that he is a very seasoned trail and ranch horse but hasn't had tons of arena work. Nevertheless, he likes to learn and he's enthusiastically agreed to some dressage lessons. We're working on half-halts and leg yields, and we've hacked around the property. You could almost hear Caleb sigh in relief when I took him on his first hack, as if he was saying: "Finally! She's letting me do something familiar!!"
Caleb is no longer the shell-shocked survivor. He's a confident, playful, friendly boy who has all four feet in the promised land. And he's ready to find a human who will share it with him.
Scenes from this week's rides: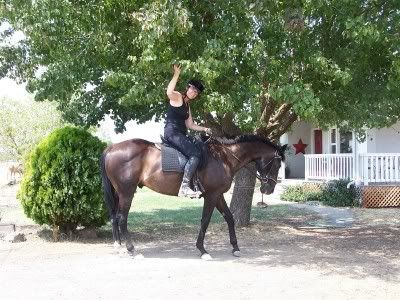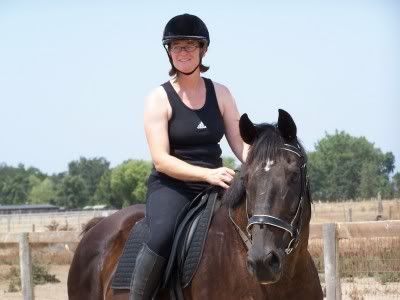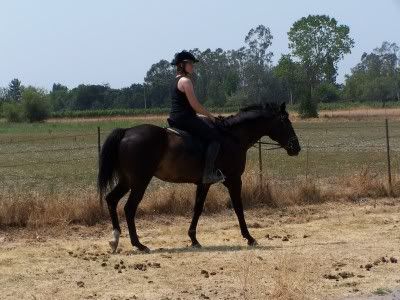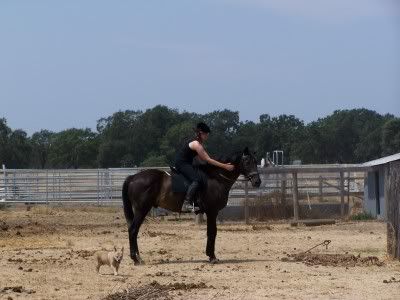 Here, my 13-year-old daughter, Demi, is riding Caleb: