ONCE UPON A TIME
there was a horse named Katie. She was born in 1999 in the state of Washington and became a Thoroughbred racehorse named "Di's Debutante." Katie was exquisitely beautiful, but her beauty did not win races. She ran too slow, and was retired to a breeding farm, where she had three beautiful foals. Katie was friendly, and liked being a mother.
Katie's happy times ended one day, when the breeding farm sold her. She eventually wound up living in someone's back yard. They did not understand horses, and often forgot to put out hay. There was junk everywhere. Katie and her two horse companions grew thinner and thinner. Eventually, the people stopped feeding them at all.
Time went on, and Katie grew desperate. There was no feed. She ate tree bark and her own manure. She was no longer the beautiful debutante of her racing days. Katie grew depressed. Eventually, one of her companions died. The people did not care.
One bleak winter day, when she had nearly lost hope, Katie had a dream. In her dream, white trucks pulled up, and people got out. She heard voices speaking urgently. A gentle hand slipped a halter on her; a quiet voice told her she was safe now. Katie did not want to wake up from this dream.
Suddenly, Katie did wake up. She was being led toward a trailer, where she and her companion, Jack, were loaded up. Katie felt hope for the first time in a long time. She was taken to a beautiful farm. A
tall young man with a kind face
looked her over and gave instructions for her care.
For the next four months, Katie slowly became a princess again. The young man (a horse doctor, she surmised) visited her often. She and Jack gained weight and wore warm blankets. They roamed a large pasture with friends, eating grass and their fill of hay.
Katie felt happy again, yet something was missing.
One day, her foster mother came to her and said: "You are healed now, Katie. Soon you will go to a farm where they will find out about your training."
Katie soon found herself in a trailer again, heading north toward a small, quiet farm. She liked it there and settled in well. She liked the food lady, who always seemed surrounded by dogs and children. The food lady let Katie show her all the things she knew --- how to take a bath, how to be fly sprayed, how to go into a trailer, and how to be ridden. The food lady got on Katie's back and together, they learned more about riding. Katie liked this.
Time went by, and Katie was happy. She loved people, and dogs, and other horses. She loved going places in the trailer. She loved the food lady, who made sure she always had food. She loved the children, and even the chickens.
Katie was happy, but something was still missing.
One day, the food lady came to Katie and said: "Katie, it's time for us to look for your very own home now. You will go to a home where you will always be cherished and protected, where you will never be sold, and you will never feel hungry or desperate again." Katie thought this sounded like a good idea. She had heard about horses having their own person. She thought this sounded very nice.
Not long after, a lady from Colorado saw Katie's photo on the internet, while she was reading about another horse the food lady was helping: Argus. The nice Colorado lady emailed the food lady, and they began to talk. They talked and talked. They talked to the horse doctor, too. And then the food lady talked to the Colorado lady's vet, and riding coach, and horse friends. And then they talked some more. After that, it was decided that the Colorado lady would come to California to meet Katie.
The Colorado lady and her adventurous husband drove and drove, all the way from Colorado to California. She was so excited! She had known the first time she saw Katie's picture, that something was special about Katie. When she met Katie she knew: this was
her horse
. She spent five days playing with Katie and riding her in California.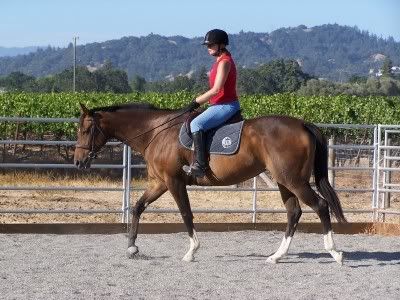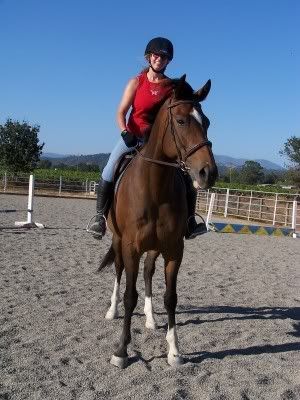 Katie soon discovered that she had figured out what had been missing: her very own person. She snuggled into the Colorado lady's arms and listened to stories of all the good times that lay ahead. "My very own person," Katie thought happily to herself. Katie, at long last, was now complete.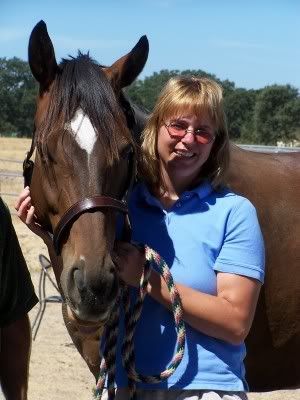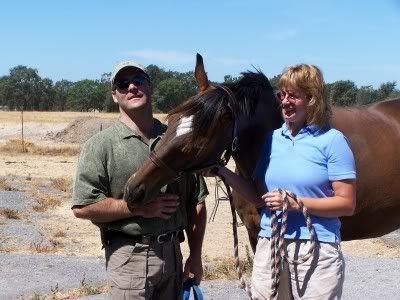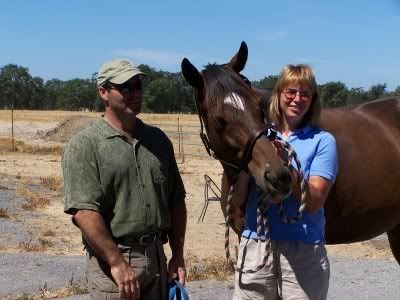 Katie with her new parents, Robyn and Mike of Colorado. Katie will join the family's horse Dalton and her canine sister, Taya (who also traveled from Colorado to meet Katie). Besides being wonderful people with a tremendous sense of compassion and responsibility, Robyn and Mike are long-time horse owners who view Katie as a member of their family. Look for Robyn and Katie in a hunter/jumper show in 2009!!
Many thanks go to the hardworking
Dr. Grant Miller
and the many volunteers of the
Sonoma CHANGE Program
for making Katie's happy ending possible.