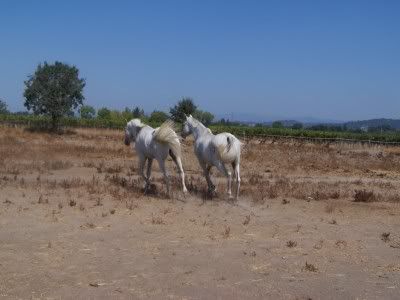 "...and so I have nothing to fear; and here my story ends.
My troubles are all over, and I am at home."

--Anna Sewell,

Black Beauty
TWICE IN MY LIFE, I found myself pondering the upcoming placement of a foster horse with a feeling of weight and dread, a sort of uncomfortable lump in my throat that would not go away. It's always bittersweet, releasing the amazing souls who have crossed paths with me into the hands of someone kind and deserving. I know I will miss them terribly, yet I know their path is meant to curve gently away from mine. I watch them from afar, like a mother bird whose fledglings one day fly purposefully away from the nest.
Twice, and only twice, I've not been able to bring myself to be that brave mama bird, feeling, instead, that
I
was the one meant for this horse. The first time, with my gray gelding Ridge, I felt ill each time I made an adoption flyer, or placed an ad, or talked to potential adoptors. It was a strange feeling of unrequieted love, as if we were star-crossed friends destined to part. I took Ridge to dressage shows, on trail rides, and spent sweet moments having quiet chats with him in the stall. He felt like
my
horse. I wanted so badly to keep him.
But it's not always that simple, especially when you already own several horses and, at times, struggle to pay for it all. My husband (bless his heart), who grimaced silently when I finally confessed my pain over Ridge, simply said: "Happy Mother's Day --- Forever!" And with that, Ridge was mine, and the unbearable weight of not knowing was lifted.
With Argus, it has been different. For months, I have trudged along with the honest intent of placing him. Placed ads. Made flyers. Wrote about him in a blog that I sincerely hoped would produce a few good home leads. The amazing thing is that with thousands of people reading Saving Argus, in all these months, not one person has wanted to adopt Argus. Not one single inquiry. Not one.
It's hard not to love Argus. Despite years of abuse, he is an innocent, a sweet, gentle, wise old soul who's quite unlike any horse I've ever met. I watched a horse who was once miserable and confused transform into a happy little being who sort of skipped through every moment of his day. Eating, sleeping, drinking and companionship were a joyous new dance for Argus. It reminded me that my seemingly mundane life, and the sometimes daunting responsibilities that come with it, was more a little slice of paradise than a burden. Gaining this sort of perspective was a blessing. Getting it from a horse was nothing short of amazing.
Every day, I watched Argus amble happily through the pasture, Ridge faithfully at his side, the two of them moving in such unison that they looked like mirror images. Every day, I saw Argus blink sleepily at Half Pint's half-hearted instruction, or nuzzle Odie's flank under the shade of the redwood tree. They looked like a little horse family, the four of them together, and I was struck by the feeling that Argus was just so damn
happy
. How could I take that away? How could I uproot him from this happy life? How could I take him away from his family?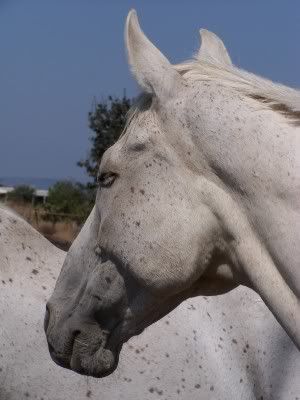 And so, after great consideration (and the promise of ongoing help from a few friends), it's been decided that Argus shall stay at Watermark Farm. Forever. He's been adopted by us.
I hope you will stick around and keep reading about the continued adventures of Argus and his twin brother and soul mate, Ridge, as well as all the other denizens of Watermark Farm. For now, it's an ending to one story...and the beginning of another that I hope will continue for years to come. I sure would like it that way.