Last July, a 19-year-old Thoroughbred gelding named Caleb (formerly called Cayenne) joined the adoption program here at Watermark Farm. Caleb was rescued from a feedlot -- and slaughter -- by my friend Nanci.
Here is Caleb when he first arrived at the farm. He was standoffish and unfriendly and just so sad. You can see the many bite and kick marks on his body, probably a result of putting him into a feedlot full of strange, and equally stressed, horses. Auctions and feedlots are very stressful places.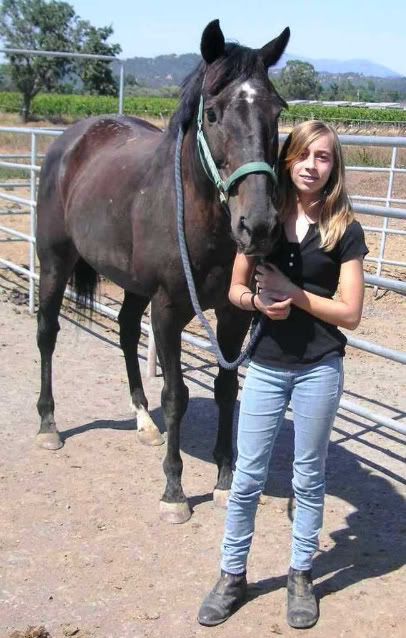 Here is Caleb last weekend, with Nanci on board. He's now a happy fellow with merry eyes. He's come a long way, and is now officially available for adoption. Could you be Caleb's forever partner?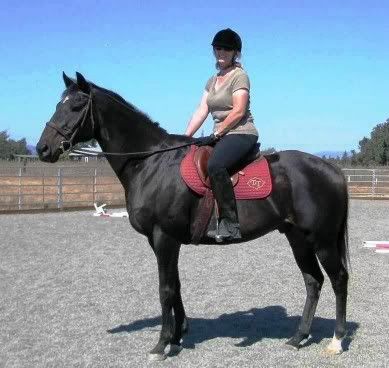 Caleb is fun to ride (has a western background), likes to work and learn new things, and bathes, ties, trailers and travels well. He is a good trail horse. Caleb is learning elementary level dressage and enjoys basic fencework. He is quite sound, and a lovely mover.
Caleb has had dental care, chiropractic care, is fully vaccinated and wears front shoes. He has nice feet, and would be a good barefoot candidate.
>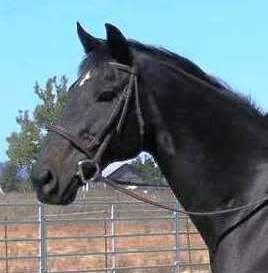 ***************************************************************************
KATIE is happy in her new home in Colorado. Her new mom, Robyn, is riding her and getting help bringing Katie along in her training. Here is an excerpt of her latest update:
Katie has really settled in. She seems very happy to be back working. She was ridden 4 times last week and 4 times this week. As she's been able to handle it we've made each ride more interesting/ more work.....
....Katie knows I'm not the food lady. But I am the lady with the yummy stuff. I bring her a little bit of senior mixed with the probiotics and electrolytes. So I get nickers for that. Yesterday we had a good rain storm. The barn roof is metal so it can be loud during a down pour. Katie didn't care. She likes to stand with her head sticking out into her run (not when its raining) and watch what is going on in either of the outdoor arenas. And she does like her neighbor Blue the 27 year old - old guy. She nickers if he is out and comes back in. ....
I've made sure someone is babysitting me when I ride Katie. But I feel really comfortable with her. I think riding her is definitely within my abilities, but I like my back up team to help make sure we keep her relaxed and that I am fair about what/how I ask. I've got such a nice, soft, sweet mare I don't want to mess with that!!!
*****************************************************************************
ARGUS, well, he's just Argus. He continues to build muscle and look more like a horse. His routine is the same every day. He's turned out 24/7 with Ridge. In the morning, Half Pint and Odie the mule are turned out with Ridge and Argus, and the four friends have breakfast together. After a long drink, they make their way out to the far reaches of the pasture to graze. Back and forth, back and forth, all day they come in for water and go back out for the brown, dry grass. It's a small turnout, only 6 acres, but to Argus it's an entire universe.
Every evening, Odie and Half Pint are brought back in, and Ridge and Argus, our two resident "skinny" Thoroughbreds, are presented with piles of hay and their buckets of feed and supplements. The only time I see Argus weaving, these days, is when he's patiently waiting for his evening feed.
If I ride Ridge, Argus watches calmly from his pasture. He's not herd-bound, and happily accepts the company of whatever equine is with him. Sometimes, I bring Argus into a paddock while I ride. Because he becomes a bit anxious at times when he's locked into a paddock, I keep these sessions short, and full of fun and feed. It's important that Argus retain the ability to be confined, but I cannot blame him for feeling anxious. I would, too!
The other night, I gave the horses a midnight snack, and spent a few minutes standing at the gate, talking to Argus. "Do you have any idea how FAMOUS you are, Argus?" I asked him. "Did you know that people from all over the world love you?" I gave him a hug as sidled up to the gate, telling him how much I loved him and how happy I was that he would stay with me forever. We ended the night with a smile and a hug. I really do think Argus understands.