Our dry, warm California weather continues, a blessing for sick horses but a curse for thirsty reservoirs and crops. January was the fourth driest on record. I stand in the normally muddy winter pasture and feel a sense of dread as I gaze out over bone-dry, fluffy soil. The sky above is blue and clear, and I say a silent prayer for rain. Everyone is gearing up for 50% water rationing. We're blessed with a robust water table here, but still worry about our well. A day in the 70s is not unusual. The horses are quickly shedding their long winter coats, leaving patches of hair where they had a brisk roll.
This is what our pasture normally looks like in winter: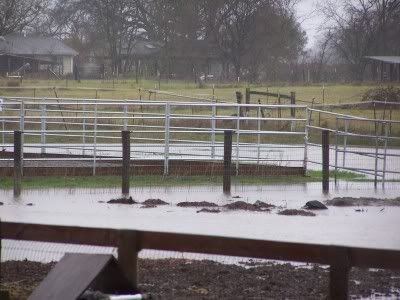 This is what the same spot looks like today. I'm busy building cross country jumps and spreading wood chips with the tractor --- in February!
Argus continues to do well and gain strength. He is cantering in the pasture now, and goes out with the whole gang: Caleb, Half Pint, and Odie (Ridge, who has a fractured pelvis, will be on strict barn rest for a number of months). Yesterday, I opened up the summer pasture, and watched the four horses circle happily around the big field. Odie did his "crazy mule run," where he runs fast with his head sticking up in the air, while Half Pint lumbered along behind. Argus broke a sweat, making wide circles around the pasture. He is such an elegant mover. As I watched him canter a big, balanced circle around me, I imagined him all tacked up with a rider on his back, confidently tackling a cross country course.
This week, Argus will have more blood drawn. Among other things, the vet will be looking to see if his white blood cell count has dropped to within a normal range. If that is the case, we will continue with the antibiotics for another 2-4 weeks. If his white blood cell count has increased, it may indicate the bacteria's growing resistance to the medications, and Argus will have to go back on more injections of Naxcel. Let's hope for a good test!
Argus now eats his medication twice daily in a bucket of alfalfa meal with molasses. He knows this routine, and comes into his stall each morning with an expectant look on his face. He is shy about eating in front of me, so I feed him and then leave the barn for a while. When I come back, his bucket is empty, and he's waiting at his paddock gate, ready to go out for the day. He always looks pleased when I reach for the gate latch to let him out. I think he finally realizes that he will never be locked in again.
I am working on an update on all the horses who were pulled from Argus' old home. All but one have found wonderful permanent homes. I am collecting photos and will share these warm stories with you shortly.