Last week Argus happily greeted Dr. Miller and stood quietly and politely to have his blood drawn. This in itself was gratifying because getting a needle into Argus' jugular vein has traditionally been an exciting affair. I waited anxiously for the results of the blood panel.
The next day, a jubilant Dr. Miller called with the good news ("What's the best news you can imagine?" was his greeeting): Argus' white blood cell count was down to 6,000 --- well within normal range.
Argus has beaten internal pigeon fever, once and for all!
He will continue on 2-3 weeks of twice-daily antibiotics just to be sure.
For Argus, life has returned to a comfortable pace. He's still aloof, moving away from my touch at times, yet he eyes me with a kind face and thrills me with an occasional nicker when I prepare his evening bucket. He's forgiven me for torturing him with needles, and he even lets me blanket him now without being haltered (a miracle in itself).
Rain has finally graced the farm, bringing squishy mud and dirty horses. Though it's not enough to quench our drought-thirsty region, it's enough to make for slippery turnout and leg-wrenching footing. I realized the other day, as I watched Argus struggle, to some degree, to dance through the newly-wet pasture, that here was another first: Argus first real muddy winter. I smiled for him, knowing that he was enjoying himself.
This horse, who has been the recipient of love and support from thousands of people on every continent on Earth, has more work to do. So many have fallen on hard times, and people need to hear good stories that fill them determination and hope for a better future. It's a beautiful world out there, with so much to be thankful for. Could it be that a simple white horse is here to teach us that a beautiful life can emerge from the absolute depths of despair?
******************************************************************************
A smiling mother and daughter climbed out of a mini van after a long drive. Fans of Argus from afar, Kim and Ava had decided to make the trek to see him for real. Six-year-old Ava greeted me like an old friend (her mother later explained that she felt like she "knew" us from seeing the blog), thrusting two drawings into my hand. They hang on Argus' stall now, one picture of Argus and me in front of our barn, the other of Shelby (my daughter) and Odie The Mule. Those drawings make me smile every time I walk by them.
We enjoyed a pleasant afternoon of grooming, stall cleaning, and chatting. Argus (and later Ridge) enjoyed a whole hour of grooming (something I never have time for) with Kim while my daughter Shelby kept Ava busy with a ride on Ginger the pony.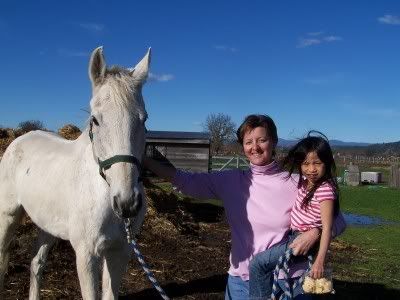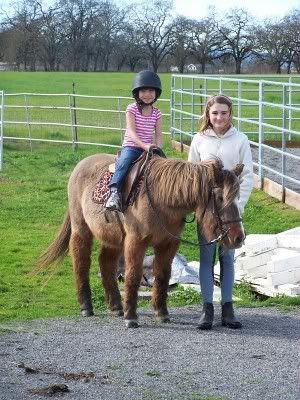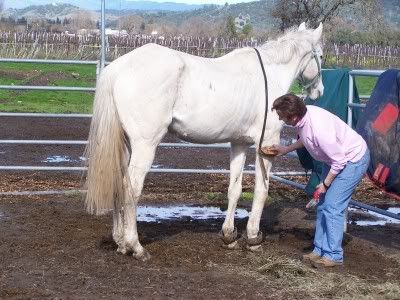 Afterward, I coerced Kim into joining me in the arena for a ride. Odie the Mule was her trusty mount: