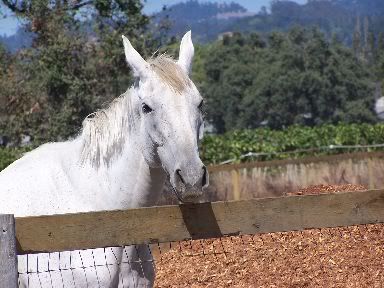 Happy Argus, who now ambles through life, and his pasture, without a care in the world. It's a far cry from the long days stuck in a pen, where weaving and staring at things in the distance whiled away an endless sentence.
Sure, shadows of the Old Life are not far away. Argus, who has the mind of a four-year-old and the body of a 30-year-old (even though he's only 17) stands on knees so arthritic he cannot straighten them fully. Regular joint injections and 24/7 movement keep the pain at bay, but it's still hard to watch Argus lay down. He bends his knees as far as they will go (which isn't far enough!), and kind of shakes all over as he flops down, hard, on his side.
Occasionally, Argus experiences being "out" in his upper neck, where some upper cervical vertebrae form a logjam, an event so profoundly painful that he cannot lower his head, eat or drink or be touched, even to be haltered. It lasts for a day or two, me plying him with raised buckets and feed bags to no avail. The vet comes out and stands, worried. His best drugs seem no match for the ghost of Argus' past.
So occasionally, Argus sees the chiropractor. In this case, it's Dr. Suzanne Guyton, who cheerfully comes to the farm every 8 weeks or so to work on the horses (and one dog). I met Dr. Guyton six years ago, and have been amazed by her work ever since.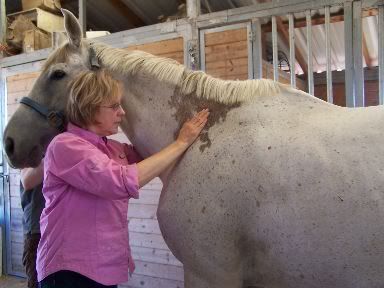 When she first met Argus, her face was troubled as she examined him. I was not disillusioned about her ability to help him. After all, he'd lived in a pen since he was a weanling, living on stale french bread and passing the years of his growth and development without enough movement to accomplish these things normally.
His entire pelvis and sacrum were a mess, so badly fixated and jammed that not one joint in the structure functioned normally. Dr. Guyton was amazed he could walk at all. His back nearly as bad, and his neck....she let out a gasp, and looked at me sadly. "Well," she said quietly, looking at me as if she were telling me I had only weeks to live, "we'll do whatever we can."
A few days ago, Dr. Guyton worked on Argus. As usual, his neck was a mess, the first three vertebrae, including the giant C-1 (aka, "the Atlas") all rotated and jammed against each other, functioning not as several distinct joints but one. Dr. Guyton freed them up, then asked me to do daily "carrot stretches" with Argus. He nodded his head in agreement!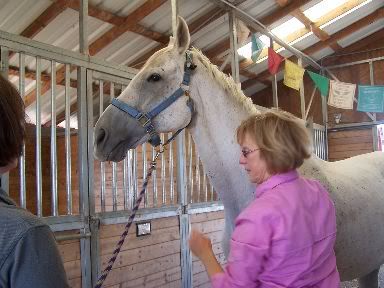 When Dr. Guyton worked on Argus' hind end, she beamed at me with joy! After a few quick adjustments, she proudly pronounced his sacrum to be in fully-functioning condition, the joints moving nicely and in a healthy way. This horse, whom we never thought could be normal behind, was now normal behind! Hooray for Argus!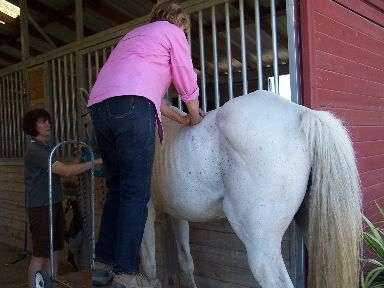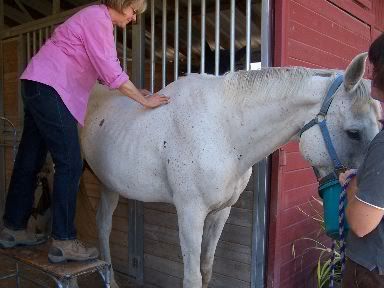 Argus loves seeing the chiropractor or the farrier, because he knows he will be plied with a soothing bucket of alfalfa-molasses. Afterward, he strolled calmly back out to pasture, where Ridge, Half Pint, and Odie waited eagerly for him.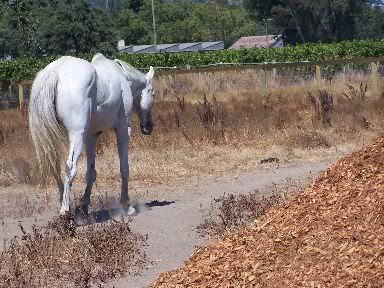 At the water tub, Ridge and Argus compared their reports cards from the chiropractor, Ridge characteristically boasting to Argus about his A+ verus Argus' B. Ridge is like Argus' big brother, bossy at times but very protective of him. During Ridge's entire 9 month period of confinement for his pelvic fracture, he saw the chiropractor and bodyworker on a monthly basis. It paid off, keeping the rest of his body functioning as well as possible while his bone healed. Now Ridge and I are embarking on a 30 day groundwork period; by October, I hope to sit on him for the first time in more than a year. He is doing well --- and 23 years old! (That's Argus on the left).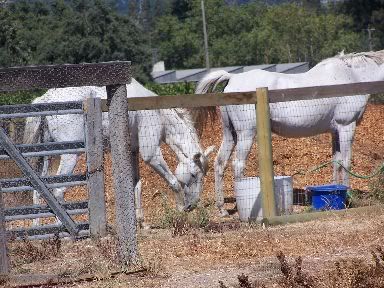 Just a day or so ago, I was up early. Argus stood alone out in the front pasture, and as happens so often these days, I was thinking about how beautiful he is as he stopped to stare at something in the vineyard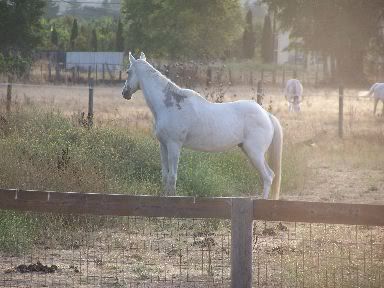 It lasted only a moment, as Argus rarely finds the need to stare off into the distance for very long these days. Soon, his head drifted back to earth as Argus marched off in search of another tasty blade of grass.