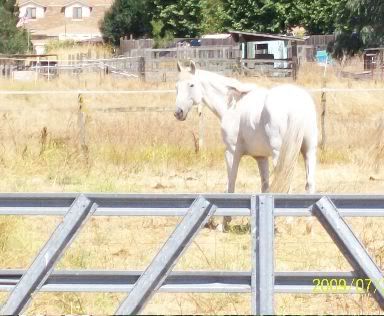 "
No pressure
," starts one e-mail, "
but it's been a long time, and we'd really like to know what is happening with Argus
."
So begins one of the many e-mails that have started coming in of late, making me feel sheepish and guilty. Busy with family, work and life, with little energy for creativity, I have been hiding from myself, bled dry by a strange run of bad luck at Watermark Farm.
The gray cloud that began with the death of our sweet old horse, Deema, and continued with Argus' illness and a string of troublesome events at Watermark Farm, ended one day in July, as strangely and suddenly as it began. I stepped on a board long lurking in some tall weeds, its principal thorn a three inch nail that plunged through my shoe, shock and foot. Screaming in pain and sobbing for my mother (in the end, only the bashful but sweet house painters working nearby would do), I thought, with an odd kind of relief:
"It's over! My run of bad luck is over!"
And it was. It is.
What I've realized lately is that not only does the world need good news in the form of stories about Argus and his friends, but
I
need that good news, too. I've missed reading about Argus, too.
It's ironic that, in the midst of all my troubles, Argus, who has needed so much for so long, remained steadfast, a brave little white knight living quietly out in pasture, when everything else around me seemed to be coming unglued.
The whole gang is back together again --- Argus, Half Pint the Percheron, Odie the Mule and (Yes!) Ridge of the Broken Pelvis. The book-ends are together once again, Ridge having healed enough to be transitioned back into turnout (You can insert Ridge's emphatic
"Hallelujah!"
here) over the course of the summer. Argus was thrilled to be back with his soul-mate. It's harder than ever to tell the two apart when they are grazing far away out in pasture. This year, however, Argus' tail is LONGER than Ridge's. In fact, he's got the most amazing, thick, wavy, wonderful tail of any horse on the ranch.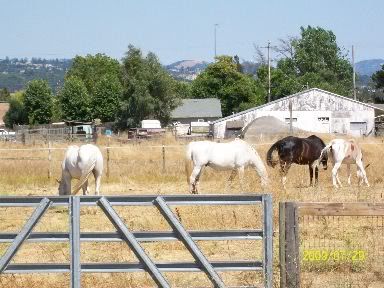 Last night my daughter, Demi, came in from feeding. "Mom," she said proudly, "Argus has become a real love bug. He actually
wanted
to come in to a paddock tonight, and he
wanted
me to pet him!" She gave me a big, wide grin while we discussed plans for a weekend "Beauty Treatment" for Argus (a fancy way of saying we will groom him, bang his tail, and trim his mane and whiskers).
Sometimes it's hard for me to believe that, after all this time (It's been nearly 21 months since Argus escaped from prison), this sweet old soul is still making progress. They are little things, new things, that no one would think twice about, like Argus 'asking' to come into a paddock for a few hours in the evening, or trotting across an entire pasture just to greet me at the fence. He's not a demonstrative horse, or a "pocket pony" in any way. He's just Argus, quiet, somewhat aloof, but tender and deep.
Argus loves our horse trailer, and associates it with excitement: the arrival or departure of a horse, mostly Odie, as he travels to and from Pony Club meetings, lessons and horse shows. Our driveway runs along one side of the pasture, and every time I come home, horse trailer in tow, Argus is there, head raised, body quivering with a nervous pleasure, leading the procession of equine greeters that stand along the pasture fence. He gives a shrill call, "Helloooo!" and then is the first to gallop back to the barn, where he will greet his long-lost (or so he thinks) pasture-mate with glee.
Odie has been coming and going a lot this summer, his horse show schedule keeping him busier than ever. He and Demi did well at the county fair this year, coming home with reserve high point and a ticket to the State Fair "Best of Show" horse show at Cal Expo in Sacramento. (They will compete in the English Equitation division there on September 3rd) They also competed in the "Fun in the Sun" Pony Club rally in Elk Grove, near Sacramento, braving 110-degree heat and coming away with Demi's highest Training Level, Test 1 score ever, 66% (pretty good for a mule who doesn't really go on the bit).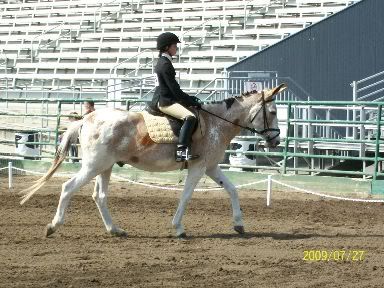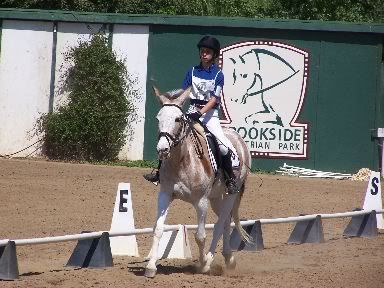 If you've stayed awake long enough to make it through the photos of my kid and her mule, then I've got a wonderful surprise for you! I am pleased to introduce the
NEW Sonoma CHANGE Program blog
. The
CHANGE Program
is the organization that helped Animal Control take Argus and Bobby out of their lifelong prison. It was a fledgling non-profit in 2007, and Argus was their first official foster horse. Since then, I've become a volunteer and supporter of their efforts.
I hope you'll enjoy this new weekly blog, edited by yours truly! (And check back here for more updates on Argus and friends. We're back on a weekly basis)
~Katie, Argus and the entire gang at Watermark Farm