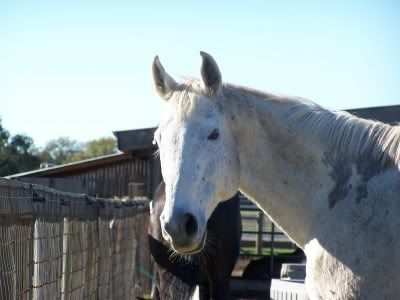 After a peaceful summer in which Argus led the charmed life of a newly-freed prisoner, fall has presented Argus with challenges. I dearly wish I could somehow protect him from worry and discomfort, but I can't. He's endured enough hard times to fill ten lifetimes.
First, his friend Ridge has lately been confined to what Argus rightfully views as JAIL --- a paddock. Ridge's hind end lameness has progressed to the point where it's become a four-alarm event . We're getting close to figuring out what ails Ridge, but meantime, he's been sentenced to paddock jail with twice daily handwalks.
Argus, meantime, swaps
Pigeon Fever
stories with Half Pint and Caleb, as all three geldings have contracted this infection so common in California.
It's been weeks now that I've been hot packing and cleaning and draining and cleaning and draining and hot packing chest and belly abscesses. Half Pint was the first to get it. His case has been the most spectacular. Argus followed quietly with a simpler belly abscess requiring minimal intervention. That was so like Argus, to get sick and nearly get better without even letting me know.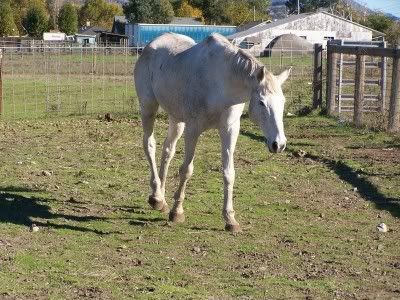 Still, he hasn't felt like his usual, sparkly self for a few weeks, and the on again, off again fever that gives Pigeon Fever its name has taken its toll (the pigeon part comes from the characteristic swollen chest, making the horse look like rather pigeon-like). Argus has lost quite a bit of weight and now, as a second large abscess is developing in his chest, is sore, too.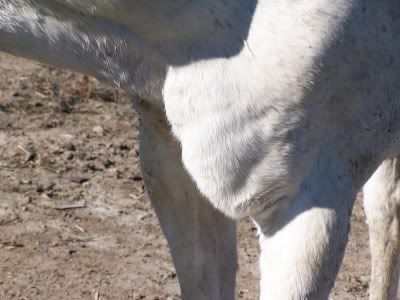 His arthritic knee is due for another joint injection as well. His eyes are just a bit less merry than normal as he stalks Half Pint through the pasture. I feel sorry for him, yet, I know he's experiencing life, and all it has to offer. Good and bad.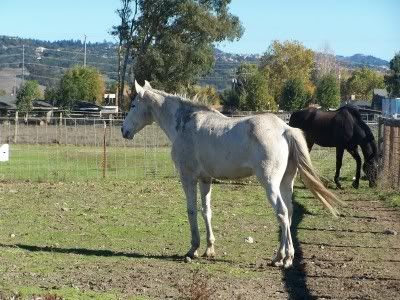 Still, Argus makes the most of things. He enjoyed our recent first real rain of the season, rolling in the new mud until we joked that he was dressed up like a bay horse for Halloween. I realized later that this was yet another first for Argus as he closes in on a full year of freedom --- the singular pleasure of rolling in mud that hours before had been dry, powdery dirt.
"It's all normal stuff, buddy," I counsel Argus as he lets me tend to his swollen chest. I wish I could lift his spirits with a deep discussion of the duality of life, and how pleasure and pain, joy and sorrow, and health and disease exist side by side. Instead, I do the next best thing and offer him a horse cookie. He accepts it gratefully, chewing it slowly and licking his lips as he half dozes in the warm fall sun.
Last, but not least, Caleb is still looking for his forever home. He's schooling elementary dressage and recently attended a Pony Club lesson. He is a 19-year-old Thoroughbred gelding, a former stakes winner who won eight major races, most won wire-to-wire. His drive to win is evident in his serious work ethic. Caleb loves to learn and takes our schooling sessions seriously. He is a beautiful mover and is sound, and has a level head on the trail. Caleb is looking for an intermediate adult rider to help write the rest of his rescue story. Please contact Katie at
watermarkfarm1@yahoo.com
for information on Caleb.