It is with great sadness that I announce that Athena was humanely euthanized today. She was not doing well in her foster home, and was slamming into her stall walls , creating a serious hazard for her caretakers (one of whom was injured by Athena). The Sonoma CHANGE Program provided Athena with separate evaluations from two veterinary opthalmologists as well as Dr. Miller. Athena had no vision in one eye, and a painfully detached retina in the other. She was in constant pain from her eyes and her badly foundered feet. Athena has crossed the rainbow bridge and is now in a better place. You are free now, Athena.
Athena was the last horse to leave Argus' hell. Last Monday, she waited quietly in the littered pasture for her long-awaited rescue, alone in so many ways.
Athena, we discovered sadly, had become profoundly blind. An opthalmologist confirmed the next morning that uveitis, untreated, had robbed Athena of her sight. Her retina is painfully detached. The prognosis is not good.
She stretched toward our voices, her beautiful face bright and eager. She could see our general movement, light and shadows, but that was all. Still, she trusted three
Sonoma CHANGE Program
volunteers to halter her, even though touch was so unfamiliar, and scary, and allowed me to lead her through the junkyard that has been her home since birth.
This is Hell: This is the home where Argus and his horse family spent their lives. You can see the infamous mare motel in the photos. This is where Argus was locked up for 15 years: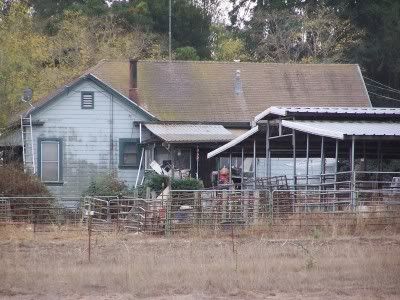 I could sympathize with Athena's blindness, with the challenge of walking through narrow pathways between piles of junk. The saying "seeing red" came to mind, for I had come face to face not only with the blind Athena, but with Pat, the woman who had cruelly imprisoned and mistreated Argus.
Pat The Hoarder followed behind me, shouting:
Get your hands off her face!! I want some pictures of her. I need to get her set up for pictures! I rode this mare's father, and mother, and grandfather! She's a champion! I had her whole family! Now get off her face, god dammit!! Get away from her!
It took me everything I had to maintain control. "You've had your chance to take pictures," I growled, shaking, with shallow breath. My field of vision became narrow, spotted, red. Blinded by rage, and dragging a strangely trusting blinded mare behind me, I fled down the driveway, to the country road below.
"Just walk with me, sweetie, I won't hurt you," I whispered urgently to Athena, as we stumbled down Goodwyn Avenue. "We are here to take you to a safe place. You must leave this place now. Please walk with me, trust me."
And she did.
This place. This hell. This raging madwoman trailing behind me, screaming about photos and "setting her up." I had, at long last, come face to face with Argus' jailor. I was filled with a sort of blinding rage that I've almost never experienced.
Here is Argus' prison. This is the mare motel where he spent his whole life. This is the tiny 12 by 16 paddock that was home. This is the still filthy water tub that he drank out of for years.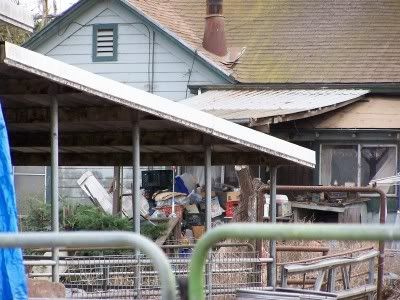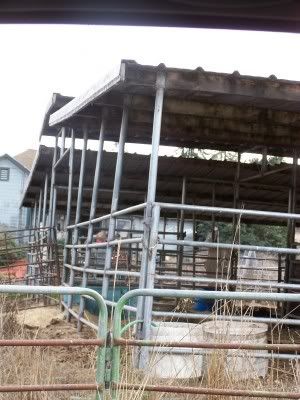 This was Argus' view from prison: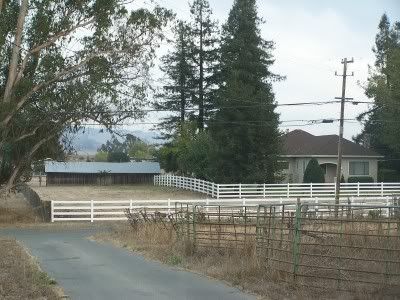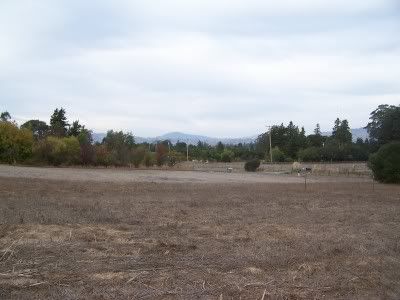 Two doors down, the TV show "Extreme Home Makeover" had once descended upon the neighborhood to tear down an aging farmhouse and rebuild it into a country estate. I remember visiting the site and watching them gut the house. I did not know that, just a few hundred feet away, Argus eagerly took in the activity: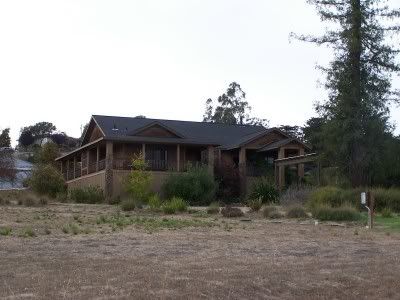 At the trailer, Athena sniffed hopefully. To our knowledge, she'd never set foot in a horse trailer. The former owner stood behind us, barking orders that made no sense, rambling on and on about horses, and Athena, and how finely bred she was. I stood inside the trailer, speaking softly to Athena, urging her to step inside: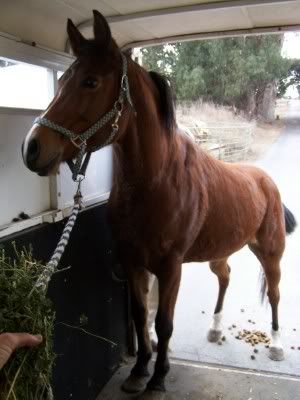 Horses seem to know when you are trying to help them. Strange things happen in the urgent atmosphere of a rescue situation. Horses who have never been handled allow themselves to be haltered. Blind mares who have never been transported climb willingly into a horse trailer. And that is what happened with Athena. After 15 minutes of inching into the open trailer, bumping her sightless head into the sides and trusting the voice of a stranger, Athena climbed in.
Her jailor stood behind her, watching with palpable rage before silently disappearing into the house. The last horse to go.
A prison decommissioned.