In memory of the horse Yiyo. We wish we could have spared you such suffering. You live in our hearts, and you will never be forgotten...
On the heels of such sad news with Athena, I'm pleased to announce a GUILTY verdict in the criminal animal cruelty trial, People v. Barrera, Valencia!!! The people who neglected
Sonoma CHANGE Program
horses
Katie and her horse companions Jack and YiYo
will now face the consequences of their actions.
I was one of dozens of people who attended the trial. We were told that not even murder trials had such a large audience. This, in turn, generated tremendous media attention.
Following Mr. Barrera's guilty verdict, a stunned audience watched as he was handcuffed in the courtroom and taken to the county jail, where he will stay WITHOUT BAIL until sentencing on November 26. For those close to this case, November 26, 2007 is the day that Mr. Barrera's horse YiYo died an excruciating death, alone in a stall without medical attention, of a intestinal twist.
So here is the press coverage. Please join me in celebrating this victory. Here in Sonoma County, animal cruelty cases have rarely seen the inside of a courtroom.
The Sonoma CHANGE Program
, The Sonoma County District Attorney's Office, and Sonoma County Animal Care & Control are now working together to set a precedent of aggressive prosecution of crimes against animals. We hope these efforts will inspire other counties around the nation.
Bloomfield couple on trial for abuse in horse's death
Woman in horse-abuse case says boyfriend was in charge
Horse cruelty trial nears conclusion
Defendant guilty in death of horse
Plea bargain in horse cruelty case
Woman accepts deal to avoid retrial in horse abuse
Katie during rehabilitation at a CHANGE Program foster farm: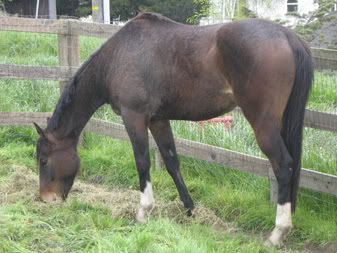 Katie rides Katie in a training session last August at Watermark Farm: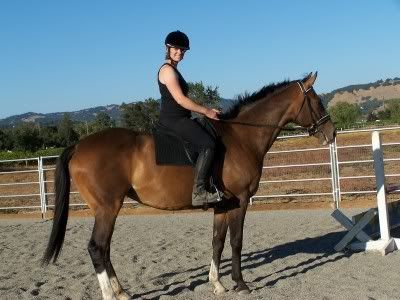 Katie's daughter, Rich Debut (chestnut on right), actively raced on the West Coast in 2008. Please keep your eye out for her as she, like many racing TBs, may eventually need a new home. Katie also has a 2-year-old son living on a Thoroughbred breeding farm in Vacaville, CA. The farm owner would like to place him. Please contact me if you are interested in Katie's son, and I will connect you with the farm owner. These two horses are Katie's only living offspring.