"Prepare yourself," came the apologetic voice of Dr. Miller at the other end of the phone line, "Argus has Internal Pigeon Fever."
Suddenly numb, I sat down at the kitchen table, the vet's words tumbling through my brain, half comprehended, like a rude splash of ice water. Around me, the cheerful trappings of a happy Christmas on the farm seemed to float through the air. I hunkered down quietly in a chair, listening. This phone call, this news, was the culmination of an unsettling few weeks with Argus in which he never seemed to fully recover from a brutal autumn of illness. I'd watched him trot listlessly around the pasture and was troubled. A vet appointment was scheduled. Something was not right.
But then, on the afternoon of Christmas Eve, a series of frantic phone calls to summon Dr. Miller. Argus was no longer able to lower his head to the ground. He was running a fever. He had a strange swelling behind his scapula. He was very sick. Dr. Miller looked sympathetic as he collected some blood, gently airing his suspicion of every California horse owner's nightmare: a rogue form of Pigeon Fever that sets up inside the body, lurking dangerously alongside internal organs. Internal Pigeon Fever.
Here in California,
Pigeon Fever
, or "Dryland Distemper," is a common occurrence in summer and fall; this year, it's everywhere. Horse owners share sympathetic moans of complaint as they swap their Pigeon Fever stories, subtly one-upping each other. Vets scratch their heads, proclaiming it "the worst year I've seen in 30 years of practice." A bacteria that's a kissing cousin to that which causes Tuberculosis invades the body, traveling along the lymph system and setting up shop in muscles, the result being fist-sized abscesses surrounded by a thick fortress of fat, the body's way of walling off and expelling the unwelcome visitor. What follows is days or weeks of fever, swelling, a really sick horse, and a giant abscess that breaks open into a spectacular eruption of pus and blood. But it's not generally considered life threatening.
Less than 10% of horses go on to develop the internal form of Pigeon Fever, and of those, I'm told only about half will survive. Those with a compromised immune system receive a guarded prognosis. Argus is a horse with a compromised immune system. Heck, just about everything with Argus is compromised.
And so, Argus is in the fight of his life. He is very sick, and only time and love and months of an arsenal of powerful (and ghastly expensive) antibiotics might save him.
I took this picture today, an effort to be humorous. Argus is enduring injections of Naxcel twice daily. He's also receiving a drug called Rifampin, which is famous among Those Who've Treated Internal Pigeon Fever. The veterans, and the vet, describe Rifampin as "that horrible red stuff that gets on everything and stains your clothes." I was baptized last night, just shy of the stroke of midnight. And again today (see my face). A mouth syringe, a polite-yet-struggling white horse, red goo in my face, eyes, and mouth.
It's easy to be sad about it all; the odds are not that great. It pains me to think that I might lose him. But I'm choosing to be as positive. I'm choosing to believe that Argus will make it. This horse is a survivor, and if anyone can beat Internal Pigeon Fever, it's Argus.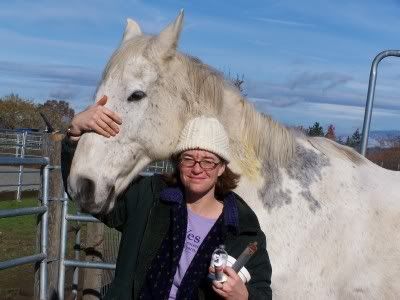 In this, the first day of the new year, I am choosing to believe in hope, and miracles, and rainbows that appear on the darkest of days. God willing, Argus will see every sunset of 2009. I will do just about anything to give him that chance.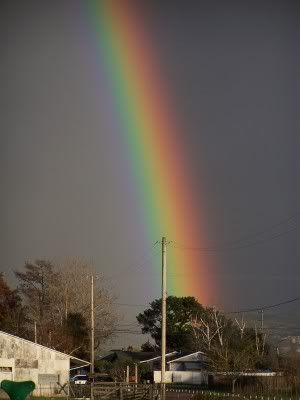 Please keep Argus in your thoughts and prayers. He needs all the good wishes he can get.
Added January 2, 2009:

A few have asked me about helping with the cost of Argus' medication. Normally, I would not accept such help, but in the face of costs of $3,000 for antibiotics alone over the next 2-3 months, any assistance would be humbly accepted.

Paypal: watermarkfarm1@yahoo.com

Directly to vet:

Katie Moore's account for "Argus"
Sonoma-Marin Veterinary Service
1120 Industrial Avenue, Suites 13-14
Petaluma, CA 94952
707-763-1222

Added January 4, 2009:

Thank you to everyone who donated to help offset the cost of Argus' medication. In just 48 hours $1050 was raised, and it will go a long way toward purchasing medication. At this time, I ask that you do not donate further. Thank you so much for relieving a tremendous financial burden on my family.

Katie Moore