Here on the farm, time has a funny way of slowing down, speeding up, and occasionally looping back in upon itself. Days sometimes seem to melt into each other, blurred by the business of life: the nurturing of a marriage, the care of four children, running the family business, caring for a multitude of animals and a hobby farm that always seem to be falling apart. In between, the the house must be kept clean, groceries purchased, violin lessons driven to. The girls stay busy with pony club and dreams of local horse shows. The boys divide their time between Shakespeare performances and an obsession with remote-controlled airplanes.
We are blessed with a rich and sacred life that sometimes overshadows the quiet experiences that make it so poignant. The turning of events, the way people and creatures come into our lives and shape them forever, fascinates me. I think back to that fateful phone call last December from a vet I had never met, asking for help with Argus, and wonder: Was this all for a reason?
Once, more than four years ago, I went to the animal shelter to adopt some rats for our son, Drew. At the back of the shelter, in the heartbreaking "never for adoption" section, lay an ancient black and white dog, surrendered by his owners. I stood sadly in front of his kennel, where he never lifted his head to look at me. He had given up. His name was Snoopy. I brought him home that day, thinking we would give him a dignified death away from the pound.
$500 later, the vet said "this is a young dog! Only 8 years old. He has low thyroid and a messed up back from years of chewing at flea bites." We watched Snoopy age in reverse, from what looked like 16, and at death's door, to a dog with energy to rival a puppy. Thyroid medication and chiropractic care were the key to a second life.
So imagine my pleasure when Snoopy's chiropractor of the last 4 1/2 years, Dr. Suzanne Guyton, told me during one of Snoopy's monthly visits that she would like to work on Argus on a volunteer basis. I was thrilled! Dr. Guyton is a human Doctor of Chiropractic whose busy practice is devoted exclusively to horses, dogs and cats.
I had never seen Dr. Guyton work on a horse, but she did just that last Thursday, when she came to Watermark Farm to evaluate Argus.
Argus is sweet and loving, but can be shy with strangers. He has a hard time with men (I think because he has almost never been handled by a man) and people who try to "do things to him." If you take your time, and show him you are not going to hurt or force him, he is willing and cooperative. I knew that gentle Dr. Guyton, with her unobtrusive ways, would be a good match for him.
We were both curious as to what she would find. After all, chronically confined horses are not exactly growing on trees. Dr. Miller, Argus' vet, who has veterinary chiropractic training, had already adjusted Argus' atlas area (that's the area of the neck just behind the ears), and noted the various abnormalities in Argus' body. I was curious as to what Dr. Guyton could do. I prepared myself for nothing more than a thorough evaluation, not knowing if Argus could handle the intrusion of adjustments. Previous neck adjustments had been undertaken with sedation.
I was pleasantly surprised. Not only was Dr. Guyton able to throughly assess Argus, but she also performed adjustments from one end of his body to the other. He was WONDERFUL! I was proud of him! Of course, I fed him about 5 pounds of cookies in the process, but he got it! He understood that Dr. Guyton was here to help him, and he cooperated as if he was an old show horse getting his regular care. At times, he would take huge, deep breaths of relief. By the end, Argus was sleepy. Dr. Guyton said that the result of endorphin release.
So here's the scoop, here's the "train wreck" that Argus is:
Argus' 1st, 2nd and 3rd cervical vertebrae are a mess. These are the vertebrae at the top of neck, behind his head, the big chunky 1st cervical vertebra being called "The Atlas" because it's huge and it sits below the skull, kind of like the mythical Atlas who held up the earth. With Argus, you can
see
how the Atlas is pushed out to one side. When he first arrived, this area was exquisitely painful.
In addition, Argus' had painful fixation in the thoracic region (the area under the saddle; T9-11 for those who want to know) and the lumbar region (the horse's low back). It was the low back I was most interested in, because when you look at Argus, you are acutely aware that the back end of his body is not fully "alive."
Argus' entire pelvis is badly rotated, much worse than any other horse I've seen. Dr. Guyton commented that what she saw in him was often the result of an accident where the horse's hind end went out from under it. This is plausible, since Argus was kept in his pen all the time, but a few times over the years, he was said to have been let out into a small paddock, where he would "run like crazy" for a little bit before his owner put him back in. The damage done was massive. Argus' entire hind end is a mess.
Most likely, much of the damage in Argus' body stems from total confinement, and from the violent, neurotic weaving style he adopted in order to release energy and keep his sanity. Nature, with its magnificent adaptive ways, remodeled Argus' body in ways that shored him up to withstand the side-to-side motion of weaving. (Weaving is a vice most common in stabled horses where the horse stands and sways from side-to-side. It wreaks havoc on the body.)
Here, you can see the unlevel sacrum: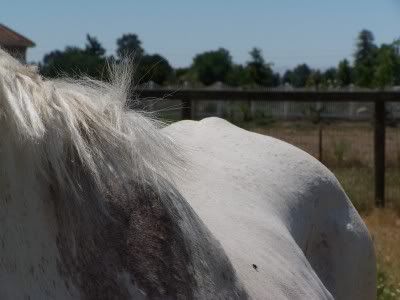 Still, Dr. Guyton let out a joyful cry when she discovered that his hind end had "movement," meaning she could adjust it. Craggy arthritis hasn't yet dug its claws in.
Dr. Guyton also pointed out something interesting, something I had wondered about. She noted that Argus' left hip, specifically the region of his ileum (part of the pelvis), was a strange shape. I have since researched the ileum a bit, and now wonder if Argus' has an old, healed fracture of the ileum? This is a common place to have a non-displaced pelvic fracture, and it can heal with time ---- and confinement ----- which Argus had plenty of. Injuries of the ileum can occur with a fall or running through a narrow gate.
I took some pictures, so you can see what it looks like. If there is anyone out there who knows about old injuries like this, please post a comment. I would appreciate your input.
This is the left hip. See the indentation?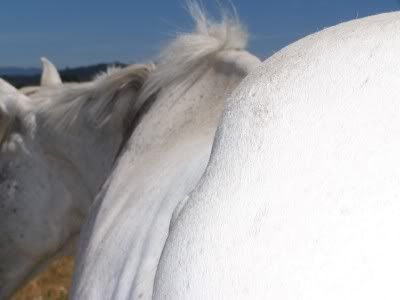 This is the right hip, for comparison.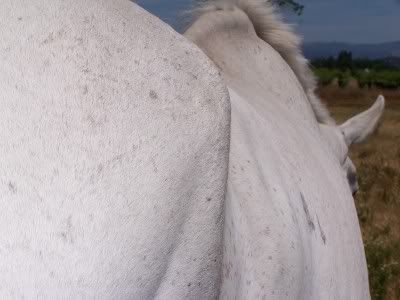 This shot shows the indentation in the left hip even better: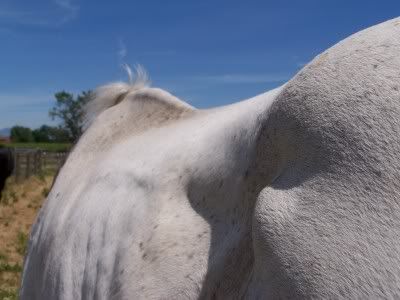 This shot shows Argus' rump, and its asymmetry: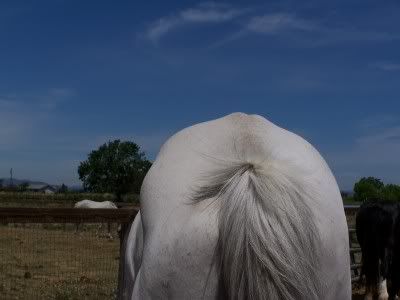 For comparison, here are Ridge (right) and Argus side-by-side, in nearly the same position. Although they are different horses, with different conformation, you can see how wasted Argus' hind end tends to be when you compare it with Ridge's:




I asked Dr. Guyton to pose for a photo with her two patients. See how sleepy Argus is? This was taken after the adjustments (Dr. Guyton was able to make headway in every area, by the way).

That's Snoopy, our dog. He LOVES Dr. Guyton. Snoopy has only seen Dr. Guyton at her office, so he was pleasantly surprised and excited when she drove into the farm the other day. He gave her a hearty greeting. When I went to take this photo, Dr. Guyton said "I think Snoopy would like to be in the picture." Look at these two pictures and the way Snoopy is

smiling

as he snuggles against Dr. Guyton, his friend: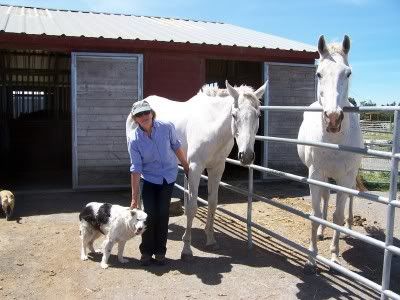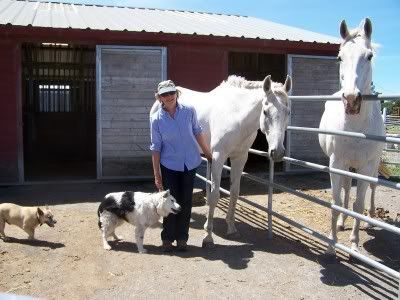 Argus spent the rest of the day snoozing in his paddock. Later on, when I walked through the barn, he stood in the stall, watching me. I heard the tiniest muffled sound, confirmed by the brief flutter of his nostrils. He was nickering at me. Only the second time ever.