Argus is enjoying blue skies and the first golden grass of summer. He spends his days wandering our three fields with his three friends, his head down in a grazing position nearly all the time now. He stares off into the distance less and less.
Our neighbor's beautiful Black Angus heifer just gave birth to a tiny black calf. The next day, our neighbor went out and rescued a newborn male Brahma calf who was destined for auction. The black cow with her "twin" babies --- one tiny black heifer and the even tinier white Brahma calf --- have caught Argus' attention and fascination. He watches them over the fence as Mama cow tandem nurses both babies (she accepted the Brahma without fuss, almost as if she knew his life depended on her kindness) and stands protectively over them. Argus, too, stands protectively a few feet away, on the other side of the fence. He will have nothing of Ridge's silliness about cattle.
Spring is in the air, but for the rather asexual Argus, it means little in the way of love. While the other geldings are "feeling their oats," Argus is having his first taste of romance in the form of Angel, a crippled and beautiful mother horse rescued from a feedlot last year. Angel, who was once an emaciated, used up broodmare...(Here she is at the feedlot in April 2007, her baby hiding behind her)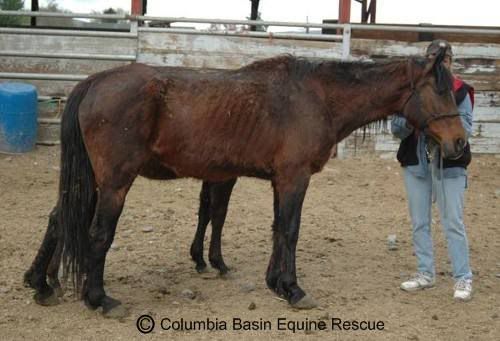 is now a shiny and stunning bay who limps around our yard, napping in different locations according to the time of day. Here is Angel in March 2008: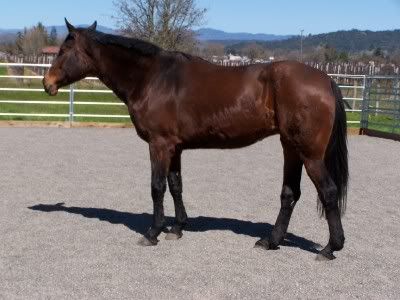 Over the fence, she and Argus have become friends, and something more. Argus is learning the fine art of courtship, with hussy Angel directing him. He has no idea what he has gotten himself into.

Angel sashays up to the fence separating them (they've been together in turnout, too, but Angel's crippled legs can't hold up to much playtime), presenting herself to the confused Argus, who clearly has no idea what she means with her friendly winking. He rests his head on her back and closes his eyes, breathing deeply of her smell and the warmth of her mirror-like coat. She is love-starved; he just wants friendship. Somehow, they seem to meet each other's needs.
Argus saw the farrier last week. It was his third trim since his rescue, and the first full-fledged trim without drugs! I was so proud of Argus, who at first regarded farrier Mare (yes, that's really her name) with so much suspicion, I thought we would be out of luck. Mare, who is preparing to take her Journeyman farrier exam, had spent the morning forging shoes by hand. She arrived
reeking
of burnt hooves and forge fire. Argus recoiled at her smell, but relaxed once he saw the cookies in her hand. He politely accepted one, and let Mare get to work.
First one foot, then the other. Our hard work, Argus and mine, is paying off. Lately, we have been playing farrier together. I strap on some chaps (the closest thing to a farrier's apron I own), and make a big production with my rasp and nippers. I pick up Argus' front feet and practice holding them between my legs. I bang and rasp a bit, dropping tools and making clanking sounds. Argus snorts at me and jerks his leg back. I stroke him quietly and start again. It's hard work, and it makes me appreciate the farrier's back.
For Argus, it's curious work, too, and he cooperates nicely, even though sometimes it's scary and he doesn't quite understand. I don't own a stand, so Argus is learning to place his foot on a bucket for more "pretend" rasping. I am amazed at this horse. He is nicer and more willing than many other horses I have worked with. He loves to learn, and he learns quickly.
It all paid off during Mare's visit. She was able to do a decent trim on all four feet. Sure I was at Argus' head plying him with a bucket of alfalfa meal, but we got it done without drama or upset, and Argus ambled slowly away when it was over. I smiled so hard my face hurt afterward, and I must have told him "I AM SO PROUD OF YOU!!" fifty times. I wondered if the farrier thought I'd lost my mind. But then again, I suspect she has thought this about me, with my odd collection of crippled and unwanted horses, for a long time. But then again, she's a soft heart like me, and she understands my ways.
Next week, Argus starts chiropractic treatment with a horse chiropractor who has volunteered to treat a horse in the CHANGE program (which helps fund Argus' care ---
http://www.sonomachangeprogram.com/
). I am eager to see what she thinks about Argus' physical condition.
For a while, I felt discouraged about Argus. He seemed to stay skinny, his ribs showed, he looked perpetually curled up like a shrimp. Sometimes I go back and look at my own blog entries to remind myself of his progress. I realized one day that he'd only been out in group turnout for four weeks, and here I was frustrated because he didn't look better. Argus' blog helps his foster mom in more ways than one.
But this week, something is changing for sure. I can see less of Argus' ribs, and his pelvis is less tipped under. More and more, I see Argus and his white companion Ridge far out in the field, and I have to look hard to see who is who (the tail length always clues me in). Sometimes at dusk, when I walk out into the pasture to bring one last horse in for the night, I stand with Ridge and hug him and tell him I love him, only to look closely and see that famous bloody shoulder. It's Argus who's mistakenly the object of my near-dark affection. It makes no matter. I hug him again, give Ridge my love, and head back toward the warmly lit windows of the house. I can feel Argus watching me go, then walking toward Ridge, as if to say with disbelief: "Can you believe that, man? She thinks I'm YOU?!"