It helps to compare periodic photographs, especially shots of the legs and hind end. I see Argus every day, so I don't always notice the changes. Here is Argus last week. Look at his MUSCLES! Look at his gaskin (the area above the hock joint), and then look above that. Compare this picture with the one below to see the changes: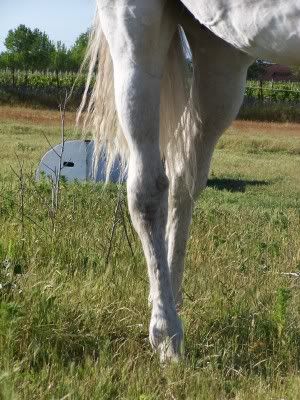 This is a picture of Argus taken about 6 weeks after he left prison: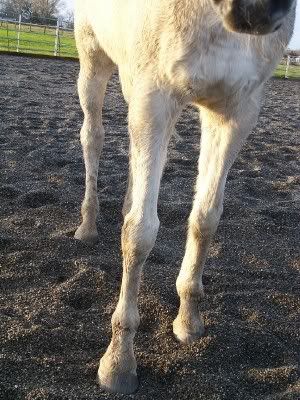 And here's a shot of Argus the day after he left prison. It doesn't really convey just how straight his legs looked. Everyone commented that his legs looked "like sticks." Rehabbing a horse like this is a new adventure for everyone involved ---- vets, farriers, and, of course, me. No one really knows the full effect of so many years of confinement: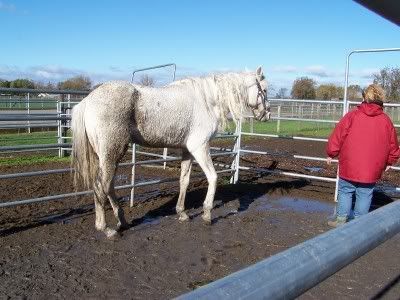 One of the things I remember the most about Argus is that the muscles in his hind end, especially on either side of the tail (what are those called?), felt like soft, gooey bread dough when he first came to me. I would press my hands into these muscles and memorize the feel, because I had NEVER EVER felt anything like it. Today, his muscles feel like regular horse muscles, firm and with substance.

Here is Argus playing "follow the leader" with Ridge. Can you see how it's getting harder and harder to tell them apart from a distance?




Argus keeps his front right leg bent a good deal of the time. The tendons are hard and contracted in that leg. They have relaxed and stretched some (for example, his leg no longer shakes when he stands quietly), but only time will tell if they ever become normal. I massage these tendons with my hands. They are as hard as concrete. I am hopeful and amazed that he hasn't injured or bowed a tendon on this leg. It's one of the reasons I had to be so careful about turning him out in deep or muddy footing



A tangle of white Thoroughbred legs. These two are good friends.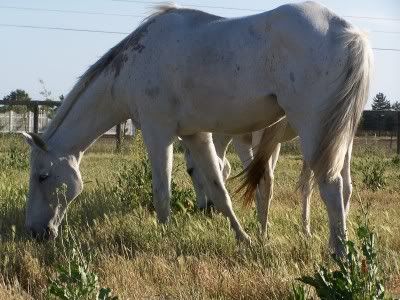 Bookends. Can you tell which one is which?



Argus and Half Pint strut their stuff. It's good to see Half Pint trotting. He's a rescue horse, also. He was a PMU foal who was rescued at auction by a friend. Sadly, he's had many health issues during his 7 years of life (colic surgery, severe lameness). He has been severely lame over the past two years, despite many trips to see "Uncle Dr. Black," a lameness specialist at Pioneer Equine Hospital. A last-ditch attempt to help him be pasture sound was undertaken last fall, when Half Pint had a bi-lateral neurectomy. For the first time in two years, Half Pint is able to trot and canter around our pasture. It's good to see him enjoying life again.





Which is which? That's Ridge on the left, Argus on the right.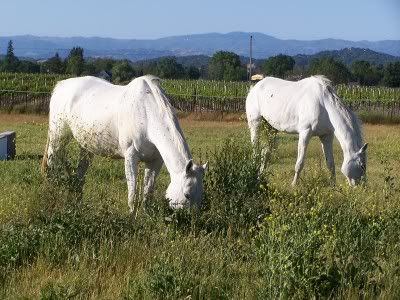 He's finally starting to look like a regular horse! Head down, grazing, and look at that hind end. It's not so badly tucked under now. See the lack of muscling in his butt? It makes his back end look like a triangle.




Argus stops to investigate the crazy photographer (me) who is laying in his field, taking pictures. "What are you doing down there, food lady?" he seems to be saying.