Yesterday, it rained off and on all day. Arena turnout time for Argus happened in fits and starts. Ten minutes here and there. He loves to go out. When I approach him with the halter & lead, his eyes light up and he walks toward me, eagerly placing his nose in the halter.
I find myself running out to the barn to squeeze in a 3-minute handwalk, or a quick loop around the barn. I can't wait for spring, when the pasture will be dry enough for Argus to safely have his first real taste of being a horse. He will be ready then.
Argus can only be turned out when I am at home and can watch him closely. He, like so many horses who have lived in total confinement, hasn't quite figured out how to be in a large space without getting stressed. When Argus is upset, he runs the fence line frantically, with occasional breaks for wild-eyed weaving, both of which are hard on him, hard on my arena, and only reinforce behaviors we are trying to minimize.
So I usually turn him out with a buddy, and thankfully, we have a bunch of good-natured geldings who all seem to know that Argus is learning. Yesterday, Argus enjoyed a pleasant 45 minutes out with
Buster
, a 17-year-old Thoroughbred gelding and one of our boarders.
Here Argus is proudly showing off his "muscles." He is especially proud of his forearm and gaskin areas (forearm is above the knee, gaskin is above the hock, which is like the hind knee).
You can see the sores I have been battling on the front of his fetlocks (the big knobby joint above the hoof). They are called "bed sores" and Argus has some very old, established ones from his life in a hard pen. They have gotten worse since he arrived, presumably because he collapses at times due to lack of REM sleep, and still rarely uses the soft stall to lay down. He wears upside-down bell boots most of the time to protect this area. Yesterday, I attempted to hose his legs for the very first time. He stood quietly while I took a cold hose to him. It was amazing. I doubt he has ever been bathed before. He is very trusting.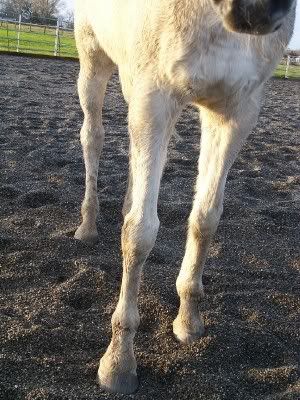 Compare with this photo of Argus on the day he was liberated, December 8th, 2007. I wish I had taken more photos of him when he arrived. Everyone who saw him comments on how "stick like" his legs were.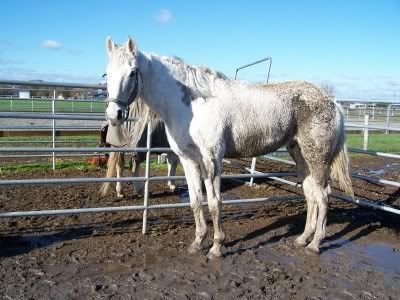 Back to present day. After a good roll (undoing his hour-long grooming session courtesy of Hannah, who comes here every Tuesday to brush him. Argus LOVES it when Hannah arrives), Argus stands thoughtfully.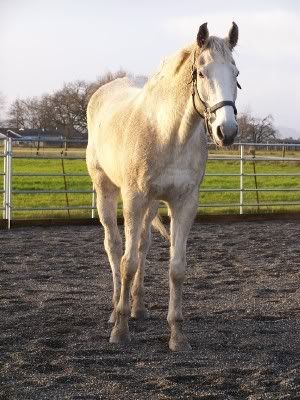 Walking around, warming up. That's a marking on the left side of his neck. I have never seen a gray horse with such a large dark marking. (And yes, that's a safety halter he's wearing!)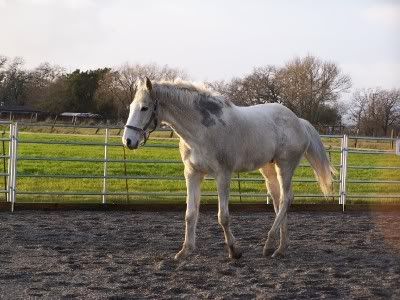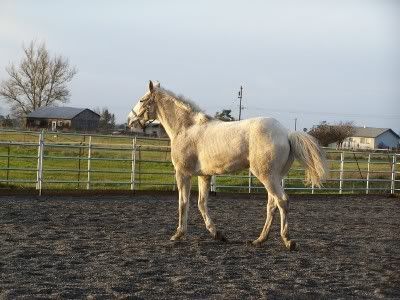 Argus is a beautiful mover. He has a wonderful trot with tons of suspension.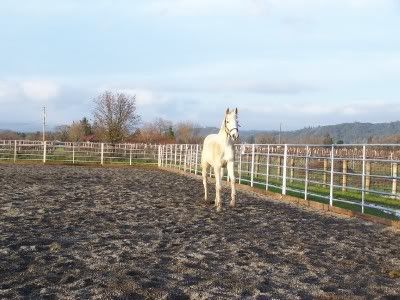 Argus, with his odd, over-developed ability to look at things in the distance, stops often to stare at things which catch his eye.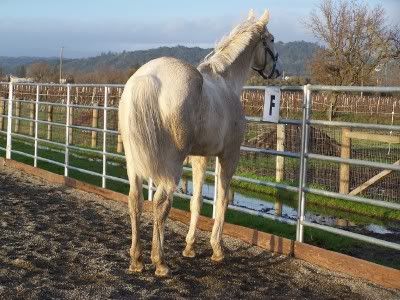 He's worked hard to be able to canter. Here he has all four feet off the ground. He is flying!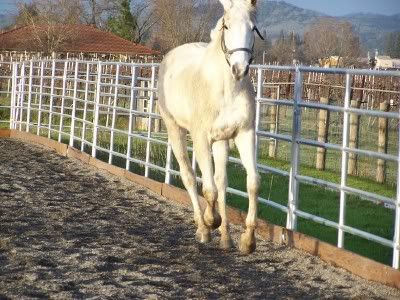 Playing "chase me!' with Buster, who is only too happy to comply.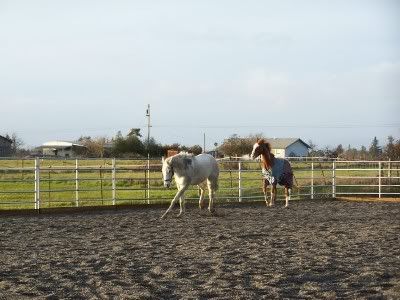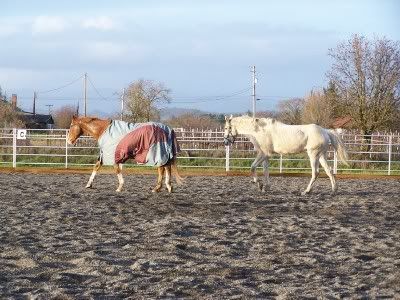 Finally warmed up, Argus runs across the arena. His posture speaks volumes about how racked his body is. He can't really lift and bend his back, or get his hind end up under him,
but he's making progress.