People often ask me about the conditions in which Argus was being kept. Here are photos of Argus as well as Bobby, the other Thoroughbred gelding involved in this case.
Both horses were kept for nearly 16 years in the mare motel pens you see. They belonged to a hoarder. The property is in deplorable condition. Their pens were never cleaned, their water tubs were never cleaned. Look at the photo of Bobby, and you can see pieces of bread on the ground. The green feed cart in the background is filled with loaves of bread. These horses existed on bread and rotting produce for most of their lives.
Those who have been to the property say that the one thing photos cannot capture is the sickening smell. Rats were crawling all over the horses' feed. Outside the pens, 32 bales of hay stands neatly stacked and tarped --- and unused.
Argus and Bobby were stabled across from each other, so that they could see each other, but could never touch.
"Bobby" --- Teenage Thoroughbred gelding is currently in foster care in Sonoma County, CA. Bobby is sweet and gentle, and was on the track in his youth. He is available for adoption through the Sonoma CHANGE Program.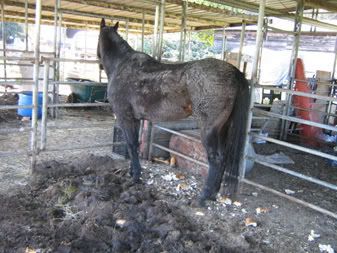 Of course, here is our Argus. This is where he spent his entire life. The mud you see caked on him was like cement, and took many hours of gentle currying, combined with vaseline and warm water, to remove. His mane was over 30 inches long and horribly matted. Argus' tail was removed at some point by the owner due to his legs being so badly tangled in the matted tail.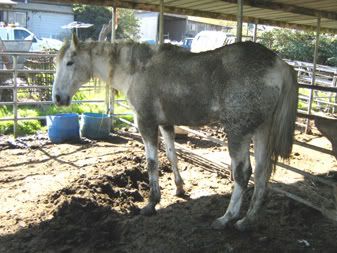 For more information on adopting either Bobby or Argus, contact them at www.sonomachangeprogram.com or contact me regarding Argus at watermarkfarm1@yahoo.com
CHANGE relies on donations in order to provide care to the horses in its program. Donations to the CHANGE program can be sent to:
CHANGE Program
1120 Industrial Avenue, Suite 13-14
Petaluma, CA 94952
(As soon as the IRS grants a tax ID number, it will be sent to you for deduction purposes)