"Promise me you'll always remember: You're braver than you believe, and stronger than you seem, and smarter than you think."
--Christopher Robin to Pooh
Someone posted this in the comments section. I thought it was perfect for Argus.
***************************************************************************
Argus is getting stronger, and can now trot and canter easily in his arena turnout. I ride his friend, Ridge, in the arena while Argus is turned out. Argus follows us around. This helps prepare Argus for a time when I will pony him (lead him) off of Ridge. Argus seems to enjoy following Ridge and I, and he gets a mini workout.
Yesterday, I saw just a tiny bit of....er....muscle developing in his back! Wow! These photos are a bit blurry. It was getting dark when my daughter took them: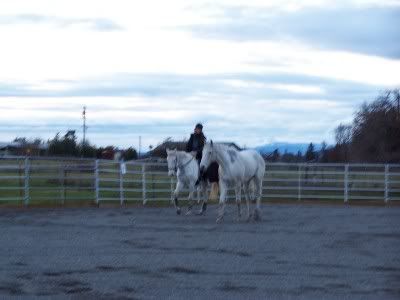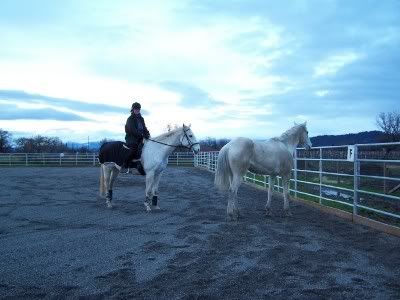 Here is young Hannah. She is our first Argus Grooming Volunteer. She came out yesterday to spend an hour brushing Argus....who was, well, in HEAVEN. Argus loves being groomed more than just about any other horse I've known. Hannah is only 12 years old but has a lot of horse experience. I felt completely comfortable letting her handle and groom Argus (that's how sweet he is):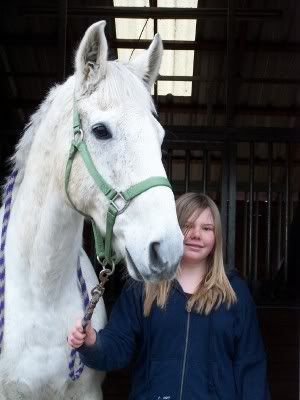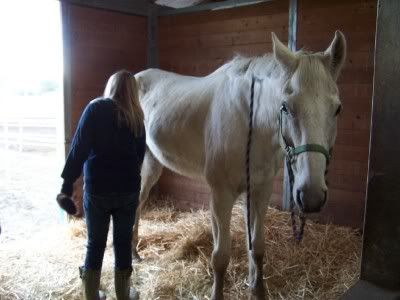 Yesterday, the local
Press Democrat
ran a story about horse neglect in this county. I was interviewed about Argus for the article. Here are links to both articles that ran:
A tough time for horses | Santa Rosa Press Democrat // News for California's North Bay and Redwood Empire
Local vet builds network to help horses survive | Santa Rosa Press Democrat // News for California's North Bay and Redwood Empire
An interesting phone call was the result. It was from a family member of Argus' former owner, who confirmed that Argus has spent his entire life in a pen, that everything really was as bad as we thought. Possibly worse. This person halterbroke Argus when he was 6 years old, and handled him, as he was nearly wild at that point. That is the "old" training I keep coming across. Thank goodness, because Argus remembered enough that I was able to re-halter train him, and he now picks up his feet easily. He really has lived in hell his entire life.
I learned that Argus' mother was a big, tank-like TB mare, very kind. Argus has a living half sister, too. She is still living in hell, with the original owner.